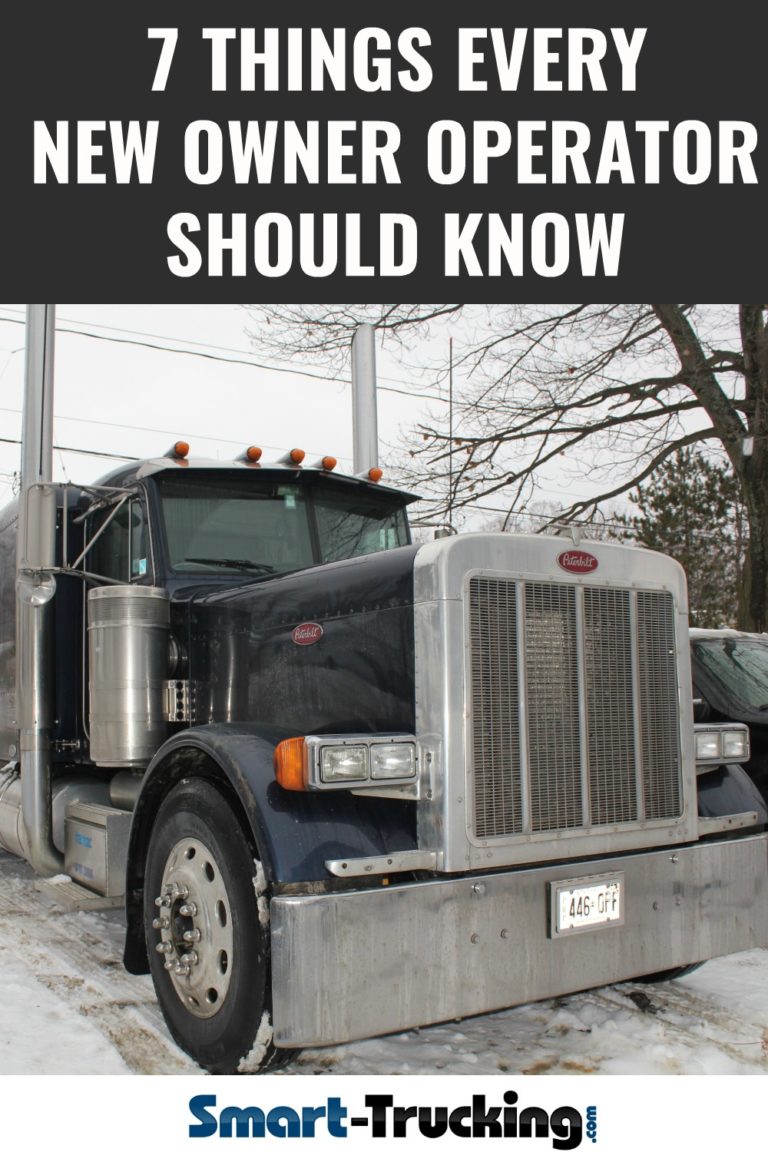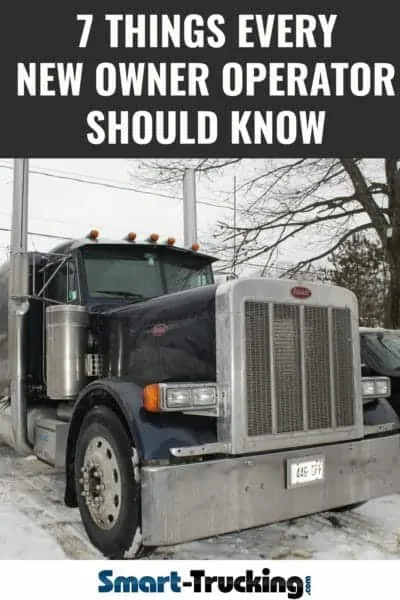 No one needs to tell you that becoming a new owner operator is a big step.
From the purchase of your first truck, to licensing, searching for work, transitioning into becoming an independent contractor, and taking on all the new responsibilities, you've hopefully done a good amount of research to prepare you for it.
Becoming a new owner operator and owning a big rig for the first time is exciting but filled with challenges and changes.
As a new owner operator, here are some things you need to keep in mind as you settle into your new career.
1. You're a Business Person Now
The most important thing for a new owner operator to know when getting started in this career is that you aren't just a driver anymore, you're a business person. Business becomes your big picture, while driving is simply a part of that.
Any independent profession requires that the individual be very dependable. You'll need to set your own schedule, manage your own finances, foster good relationships, and prepare for the worst. During your downtime, (if you have any) it's worth it to read up on how to be a successful business person and what habits can set you up for success.
You need to change your view of your profession and think like a businessperson. This means doing work you may not have thought of before, like networking or watching supply and demand trends so you can negotiate your pricing.
While being an owner operator offers you a great deal of freedom, it also places a large burden of responsibility on your shoulders. Keeping the right mindset will mean the difference between that responsibility being too heavy or carrying you into success.
2. Calculate for the REAL Cost of Repairs
Everyone will tell you that you'll need to make repairs to your truck. The important thing to remember about this tip is that you should never calculate too short.
In order to consider the real cost of repairs on your rig, you need to factor in:
The cost of the part + the cost of the repair (labor) + downtime + payments on your truck
Cost of the part – If you need a part repaired, it doesn't hurt to shop around and find one for cheaper. After-market parts can save you hundreds.
Cost of the repair – If you can learn to work on your own rig then it could save you a great deal of money – only if you know what you're doing. If you don't trust yourself to do it right, then make sure you consider how costs vary from town to town. If you break down in a big city, you may find that prices are wildly different than your hometown.
Downtime – Depending on how long your rig is down, you could be missing out on a lot of revenue. Try to schedule your maintenance during pre-planned downtime so you aren't losing money. Replace parts BEFORE they break.
Payments on your truck – If you want a new truck and it breaks down (or you get in a wreck) shortly into your year, don't forget that you now need to make payments on a vehicle that isn't making you any money. Have your truck payments saved ahead of time so you don't have your truck repossessed.
3. Calculate the REAL Cost of Fuel
There are hundreds of tips and tricks out there to improve your mpg. It's best to turn these into good habits because the savings, in the long run, can be substantial.
One great tip is to monitor your fuel consumption. It's proven that keeping your speed around 55 to 60 provides most trucks with ideal fuel efficiency. According to CardLog.com,
"For every mile per hour you travel above about 60 mph, your fuel economy decreases by 0.1 mpg. That means if you drive 65 mph for 100,000 miles, and gasoline costs $2.50, you end up paying $2,000 more than if you were to drive 55 mph."
Driving faster may get you to your destination faster, but it could be costing you big time.
4. Hire an Accountant
Every "key to success" guide will tell you that great business people know when to delegate out a task. A huge part of managing a business is knowing that you probably shouldn't try to do everything all of the time. Your taxes are a big part of that.
Accountants know how to maximize your deductions, create a realistic budget, categorize your expenses and save you thousands. Not to mention, having someone else to file your taxes and keep you under budget can be a huge stress reliever.
5. Finances
Money, money, money. It's what makes or breaks a business. Managing your finances correctly will change whether you thrive or fail in your first year. You need to accurately calculate your fixed expenses and make sure that you can accommodate for those costs in the event that you can't run a route.
Calculate the real costs of your truck, repairs, fuel, taxes and more and then add a buffer to that in case you somehow miscalculated or for emergencies. Buy a cheaper truck or one that gets better fuel efficiency. Choose the right insurance plan. Budget for repairs.
Money management is an endless task and can be a stressful one. The goal is to live below your means and to pull in a good profit.
Finding the right balance can be challenging but it will become easier with practice.
6. Consider Buying a Used Truck
If you haven't already purchased your truck, then consider buying a used one before dolling out the big bucks for a brand new one.
Buy a truck brand that has a good reputation. Aim for one that is lightly used but still has had enough miles on it to knock down the price a bit.
See if you can still get on the warranty for maintenance coverage.
You take a risk buying a used vehicle but if you can get service records, have it inspected before buying, or get on a warranty, then it could be worth it.
Related >7 Tips For Buying Your First Truck as an Owner Operator
7. Network
As a business person, your job is now to establish a good network so you can get your name in with the best shippers and brokers.
Pick a niche market and strive to get involved in that market. Maintain good relationships with previous shippers and do your best to not make enemies out of old employers.
You are selling yourself as a business, so act respectably.
Becoming a New Owner Operator
My best word of advice is to be very careful about getting into truck ownership and an owner operator trucking career.
Yes, it can be a very lucrative and rewarding career choice but it also comes with a lot of responsibilities and challenges.
You will be taking on a bigger workload and will be required to restructure the way you think about driving.
You're either cut out for it or you aren't.
But if you're motivated and determined, you will succeed.
More Related Articles