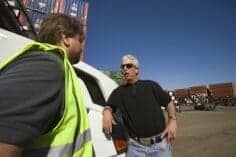 I don't think there is any doubt these days, that truckers are no longer viewed as 'Knights of the Road', by the driving public.
Are we  to blame for our own demise? We as truckers  have an 'image' problem. It seems the respect we once had, is gone.
We need to correct this and we can.
However, part of this is as drivers, is our own fault.  Have you ever seen a doctor or a lawyer or any professional come to work in sweat pants or a t-shirt with stains all over it? I haven't.
---
It All Starts With Respect For Ourselves
If we emanate our own self respect and act accordingly, it will be viewed by others.
However, it's tough sometimes to have self respect when you're being poorly treated by others.
Being mistreated brings you down.  There's no good reason any driver should ever be mistreated.  There's also no good reason for a driver to allow himself to be mistreated.  It's not just part of being a driver. It's part of being a human being.  It's part of professionalism.
No one treats your doctor like a slave. No shipper, dispatcher or receiver can treat you poorly, unless you allow it. Don't allow it.
We're skilled professionals. Act accordingly, dress accordingly and don't put up with having your status downgraded by anyone.
Can you think of any professionals who work for free, or donate their time, other than to a charity? Trucking companies, shippers and receivers are not charities.
Professionalism is a cyclical thing. The more you look and act the part, the more respect you'll receive.
---
Professionalism and Respect Starts in Training
Some of this image building needs to be done at conception.
The driver training schools and company training programs for new drivers need to instill the fact that truck driving is a skilled profession.
The career which the drivers in training have chosen to enter is an honourable one and drivers need to be treated accordingly.
New drivers should understand from the start that once they're on the road, they'll be mingling with all sorts of people, buy they'll be out there with some well experienced old school professionals.  These are the guys to watch and learn from to improve their craft.
---
Poor Treatment by Trucking Companies
The driver shortage which trucking companies are experiencing should be a wake up call to those companies on how they train and hire new drivers and how they're treating the rest of their driving fleet.
100% turnover in the trucking industry indicates the treatment of drivers must be poor. 
Big companies can be slow learners. Many of the big carriers are run by people who either don't know or don't care what their drivers experience day to day. 
I think it's fair to say though, that none of the management team at any trucking company would tolerate being treated poorly. 
I've read how the training programs work at some of the mega carriers and I find it hard to believe.  I cannot believe that new drivers would put up with such treatment. 
NO wonder so many new drivers just quit and walk away from our industry. 
Some of these poor buggers are expected to ride with a driver trainer of questionable skills, both driving and moral, for weeks at a time, living out of the cab of a small truck.  That's archaic. 
The trucking company is demonstrating a lack of respect for the driver right from the start, by expecting him or her to put up with these awful living conditions. 
Would the company CEO live like that? You don't even need to answer that question, as it just goes without saying, they certainly would not. 
If the CEO of the trucking company wouldn't live like that, why should he expect any driver to?
---
Bring Back Mentoring to Trucking
When I think back nearly 40 years ago, about the older truckers from whom I learned and befriended, they were always willing to take the time to show me how to do things, no matter what it was: everything from maintenance tips to how to chain up, and even where the best restaurants were located.   They were willing to share their knowledge gained from years of over-the-road driving experience.
We, now, as seasoned drivers, should be willing to do the same for this new group of rookie drivers.
Maybe if we all clean up our act a little bit, trucking will again become a career which young people will be excited to pursue.
Some Other Articles You May Like: 
Smart Trucking Home >  Trucking Career