Team driving is the practice of two truckers, sharing the driving time for the same tr ck. Each driver takes a turn driving on-duty.
The team drivers normally set their own schedule of who will drive and when.
Two people cooped up in a big truck for days and days, can create some problems as you could well imagine.
There are both pros and cons to driving with a team partner. Some prefer it, many do not.
Let's take a look at some of the 'ups and downs' of running team in big rigs.
---
The Upside of Running Team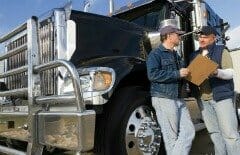 More trucking jobs.
Better chance of getting a driving job, especially if the truck drivers are newly licensed or inexperienced. Trucking companies and their customers love the fact that the deliveries are faster than if transported by a solo driver. Driving teams have always been in demand. Some find it's a good way to get their foot in the door to a company they want to work for.
Higher pay and more available jobs.
Because there are more available team driving jobs, the trucker's income should be more consistent. The trucker is not as worried about getting enough work. For most teams, the $$ at the end of the day is about the same as solo drivers, maybe a bit more, but not substantially more. Some teams run much harder than others, but most can't keep up the pace for long, before burn out sets in.  Team pay? It varies….. .32mile up to .50 mile+, DIVIDED BY 2! Some companies pay a 'lead' a little more. Teams of course run more miles than singles, but at the end of the day, depending on the motivation and circumstances of the team, the pay is roughly the same.
Husband and Wife Teams
These teams seem to work reasonably well. They can comfortably share and enjoy each other's company. The money earned from a team often goes into the same bank account, so it can be a profitable venture.
---
The Downside of Teams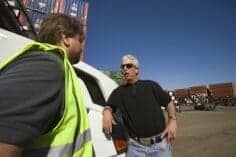 Trusting your co-driver.
A giant leap of faith is needed here. While either sleeping or in the passenger's seat, team drivers rely on one another to do the right thing at the right time. If either makes a mistake while at the wheel, it can be fatal.
Not so profitable.
Yes, teams get more miles, but remember, the pay is split down the middle with a co-driver.
Getting along with the co-driver.
Who gets the day shift or the night shift? Are the drivers compatible? They'd better be, cause they're now cozy room-mates!
Quality of Sleep.
EVEN for those truck drivers who are able to sleep when the vehicle is moving, the sleep isn't decent quality sleep. The human body just doesn't function that way. Our bodies are designed to sleep when it's dark and be awake when it's light….and not bouncing around in the bunk of a moving truck. Trying to trick your body and mind into the fact that it's time to sleep is very unhealthy, even though the hours of service rules dictate it's legal.
Noise.
There's the general noise of from a co-driver, the cb radio, the noise and vibration of the truck and highway noise, while the other trucker is trying to get some rest. It takes some getting accustomed to at first for some. Many NEVER adjust.
Tired.
Because of the unnatural, sporadic sleep pattern these drivers endure, sleep is really messed up and the trucker is often tired. Anyone who hasn't had a decent sleep on ANY night, knows what it's like the day after a restless sleep. It's hell. Try to imagine feeling rugged the day after a restless, sleepless night, behind the wheel of a semi.
Stopping for breaks.
When one of the driver's needs a break, it doesn't necessarily happen when he needs it. It's not often possible to stop where a driver would LIKE to stop. Drivers with team driving jobs, are under pretty strict schedules and at the mercy of their co-driver, as well as delivery schedules. Imagine feeling unwell and bouncing around in a big truck, and not being able to stop. Not fun at all.
Co-driver is sick, both drivers are sick.
Both truckers are cooped up in a very small space for long periods of time and one is sick. It's not long until the OTHER driver is sick. The truck is in the middle of Wyoming in a snow storm, both are feeling too sick to drive any further. Then what?
Stressful.
A trucker's job as a solo driver is very stressful. Team driving increases the stress, if that's possible. It's hard on the mind and body running team. Long, hard driving time, restless sleep, tiny living space, fast food.
Long time away from home.
It's not unusual for teams to work 2-3 weeks, and up to 6+ week stretches at a time. The truck can literally go non-stop, as long as the team drivers want to, essentially. Does this make for a solid family life? Not at all.
Team truck driver jobs can be pretty attractive, especially to a newly licensed trucker who is hungry to turn lots of miles and make the big bucks.
However, many drivers find out early in the game, that it's not all it's cracked up to be. It can be rough going for most. The hours are long, lack of rest can be a major issue, cabin fever can set in, and the pay cheque in the end for the extra stress, is not often much heftier than that of a solo driver.
Think about it carefully before taking on a job driving team. It certainly isn't for everyone.