Every trucker thinks about being involved in a serious truck accident.
It's every professional driver's worst nightmare.
This is a true story told by a truck driver of his brush with death.
If you hold a CDL, take it as a reminder of just how quickly things can go very, very wrong.
A Last Minute Switch
July 9th, 2007 is a day I will never forget.
I was in my 19th year of being a professional driver, after having received my Maryland Class A license 2 years before the CDL program was initiated.
I drove locally for a heavy equipment transport company. Their specialty was being available 24/7 for emergency equipment moves.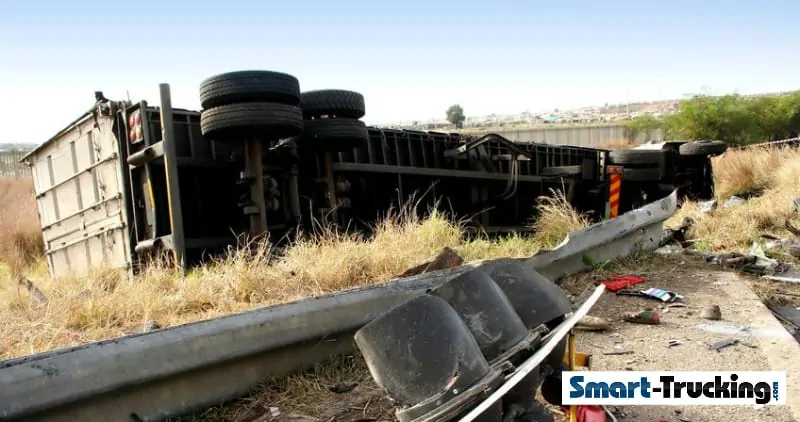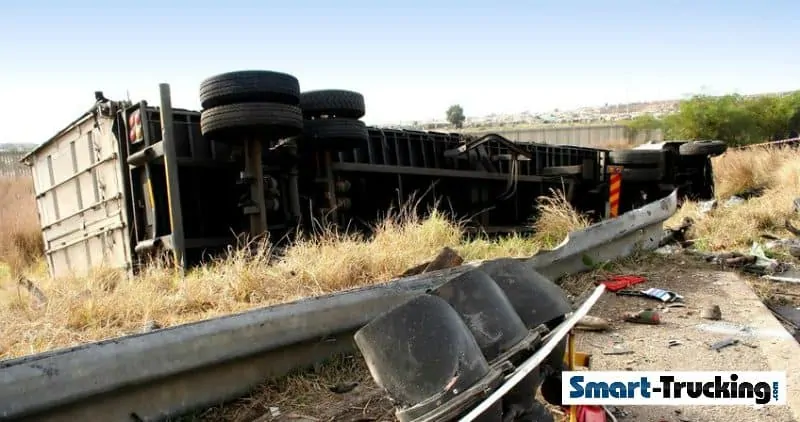 Our yard was in Calvert County, Maryland, on Route 4, about 35 miles outside of Washington D.C.
Our dispatcher had received a call from Sunbelt Rentals in Forestville, MD, asking us to send someone to their location, to take two 10K warehouse forklifts to the D.C. Convention Center, as they were needed immediately. All 3 of Sunbelt's drivers were on other runs.
It was 4:30pm, and it was 100 degrees outside.
Normally, I would have been less than happy about going into Washington during the height of rush-hour.
But I hadn't done very much that day, and my number was up.
Little did I know how true that would be.
I normally drove a Freightliner FLD120 day cab, with a 48′ Landoll hydraulic trailer.
But since I would be hauling only 2 forklifts, the boss-man told me to take the tandem rollback, a 1998 International 9100i that the owner had converted from a road tractor to a rollback.
Related > 7 Trucking Industry Changes Which May Affect Your Truck Driving Career
Things Go VERY WRONG – FAST
That was fine with me, as the corn binder was much shorter than my tractor trailer and when going into D.C., such things matter. And, the air conditioning worked better in this truck.

I left the lot turned right onto MD-RT. 2. On this scorching hot day, I was glad the air conditioning was working well.
After traveling about 6 miles, I turned left onto MD-RT 260 West, which would take me to MD-RT 4 (Pennsylvania Ave.).
As I shifted up through the Eaton 10 speed, I had just shifted into 10th gear at about 48 mph, when I noticed a 4 wheeler, 3/4 of a mile ahead of me, wiggle a little bit, as it headed towards me. The 4 wheeler was headed east.
The vehicle had it's headlights on and I kept my eye on it as we approached each other.
When we were about an 1/8th mile apart, I watched in horror as the approaching vehicle started drifting into my lane, AND it wasn't slowing down!
As veteran drivers know, you do not have time to think when something happens.
Your muscle-memory takes over and you just react.
In the 4 seconds before impact, I had slammed on the brakes, moved my rig all the way over to being half on the shoulder/half on the grass, and leaned my body to the right, not locking my elbows on the steering wheel, and just had enough time to say "Oh Sh–!
BAAMMM!!!!
The 1988 Jeep Cherokee hit my driver's side front steer wheel at about a 26 degree angle, driving it from 4 feet in front of me, to 3 1/2 feet behind me, taking out 4 large truck batteries in the process.
Related > Are You Willing to Go to Jail For Your Truck Driving Job?
Witness Stories to the Accident
The 5 cars behind me didn't see much, except for white smoke (even though my vehicle had ABS, I left a skid mark 146 feet long).
But the 6 cars behind HIM saw everything.
They said the Jeep spun like a top, 3 times, about 12 feet off the ground.
Witnesses of this horrific accident say that on the 3rd spin, the driver was ejected from his sun-roof (they were half-right).
The vehicle, which police estimated to be traveling at 62 mph, was bounced backward over 100 feet.
Later that night, during the police interview, I had estimated his speed at 60mph, and mine, standing on the brakes, at 40 mph.
The police had me at 38 mph, and him, at 62, for a combined impact speed of 100mph.
Related > What Every Trucker Should Know About Dangerous Truck Deliveries
My Recollection of the Accident
I remember first the driver's side windshield exploding.
I then looked to the sky as the front of my vehicle, rode up and over the Jeep.
As my rig came back down, I was thrown out of the seat.
I wasn't wearing my seatbelt, lesson #6. As a result, I ended up on the floor of the passenger side looking at the heater core.
As I looked up through the passenger side window, I noticed that my truck was still moving.
I reached up with my left hand. I tried to steer the truck even though I was lying on the floorboard!
What I didn't know then was that my entire front axle was gone, and that my steering shaft was broken in 3 places. The truck finally slid to a stop on the frame.
I slowly lifted myself from the floor of the truck and sat back in the driver's seat.
A few of the witnesses appeared at my door, asking if I was ok.
"I think so", I replied.
I looked behind my truck and saw the Jeep sitting in the middle of the road.
It looked like it had blown up.
To make matters worse, I could also see the Jeep driver's body, lying right on the center line of the road, staring blankly up to the sky. I should clarify, half the body was lying on the center line.
The impact of the crash was so severe that it sheared all the main bearings of the Cummins engine off, leaving a trail of 44 quarts of oil over 120 feet long.
Related > Big Rig Right Turn Accidents – Who's at Fault?
My Injuries From the Truck Accident
Due to the severity of the crash, I was flown to Prince GeorgeCounty Hospital by Eagle 1, the same US Park Police helicopter unit that affected the rescue at the Air Florida airliner crash into the Potomac River 25 years earlier.
The most severe injury I received was a deep tissue bruise to my lower right leg. This happened when I was ejected out of the driver's seat and hit it on the CB radio, which was mounted on the dog house.
I had to walk on crutches for 4 weeks as my right foot swelled to twice it's size and turned black from the bruised tissue.
I knew I was one lucky guy to walk away from such a serious accident, with only a giant bruise.
The day after the crash, I was interviewed by the Anne Arundel County Police Dept's. Traffic Safety Division via telephone.
I was only the 3rd person in 25 years to be interviewed (and recorded) by telephone instead of in-person, due to the overwhelming number of witness accounts of the accident.
All witnesses claimed the accident was not my fault.
In fact, many of the witnesses said they were astonished at my driving ability when I attempted to avoid impact.
Another Driver Asleep at the Wheel
A week after the incident, I was contacted by the police officer in charge of the investigation.
He informed me that the deceased had no alcohol, or drugs in his system at the time of death.
They surmised he had fallen asleep at the wheel.
Many people including the police have since asked me, "Did you see the other driver through the windshield before impact?"
I tell them, "No, I wasn't looking through the windshield.
I was looking at the grill of the Jeep headed towards me. That's what was going to hit me."
I carried photos of the wreck with me for over a year. But, finally I felt it was time to put them away.
I have long since put this incident behind me.
But I will never forget it.
Related > Do Truckers Deserve Respect?
A Coincidence?
Two years later, while delivering a 26′ scissor lift to an electrician at the National Gallery of Art in Washington D.C.
As I was un-chaining the lift, he walked up to me and said, "Hey driver, a couple of years ago, my best friend was killed in a serious truck crash with someone from your company".
I just looked at him. I didn't say anything for a long while. Finally I said "that was me".
I was worried about how he would react.
He immediately stepped forward and hugged me, saying "It wasn't your fault, I heard all about it. You did everything you could, short of running over the nearby house, to avoid the accident, dude."
My advice to all professional drivers — Hug your children, husbands, wives, parents, and anyone you truly care about because in this profession, things can go very wrong in a few seconds.
Story By David Farnham
F.A.Q.
Is driving a semi truck an easy job? There are so many that say it takes an unskilled labour force to drive a big rig. In fact, anyone could do it.
Nothing could be further from the truth. Driving a commercial vehicle safely, is a monumental task. It takes skill, knowledge, patience and top level judgement. It is a job that is very stressful for many reasons. A CDL driving job and the skill set is downplayed, to justify the less than adequate pay at times.
Car drivers should be taught how to travel around big rigs in their driver education classes.
There would be fewer accidents involving cars and semi trucks if car drivers understood the limitations of a big truck. Big trucks have blind spots, can't stop instantly and operate much differently than a car or a small passenger vehicle.