There are loads and loads of trucking songs, old and new.
Trucker
Music Themes
There's truck driver songs about marriage, cheating, divorce, getting back together, tractor trailers, semi truck crashes, likes and dislikes about the job, being away from home, the daily life of the otr driver, leaving the job, staying with the job, religion, freedom on the highway, sad and upbeat stories and endless other themes!
There's many, many stories to be told about life on the highway, and music is the perfect way to tell a story! Music is also an expression of emotion and also evokes emotion.
Many of the songs for truck drivers, especially the older tunes, express or muster up some emotion, whether sorrow, joy, pride, the sheer passion of trucking and the glory days gone by!
What Makes a Song a 'Trucking Song'?
Contrary to popular belief, not all truckers today listen to the 'traditional' style trucking songs when driving an eighteen wheeler!
Good trucking music doesn't need to be directly related to trucking. Drivers who spend numerous hours behind the wheel like to listen to music that relaxes them and helps them pass the long work days and nights, just a little more easily. Just like anyone who listens to music, the whole idea is entertainment and enjoyment.
Drivers listen to what they like….. it all boils down to personal taste, when it comes to trucking songs.
Whether the oldies but goodies, the toe tapping classics, reminiscent of the 'good old days of trucking', the high energy, hard-driving rock tunes that make you want to get out the air guitar, or the twangy, head-bobbing country songs….. anything that makes for good listening can be considered 'good for trucking'!
Some songs contribute to the 'black cloud' that hangs over this industry ….music with reference to 'pills and driving', illegal activity, speeding, dangerous driving maneuvers, smoking, racing the cops, etc., not exactly good for the reputation of the trucker. These songs were written to be fun and to stretch the truth a little, not at all to be taken seriously.
Related > Trucker Stories and Tales From the Road
More Than Just the Radio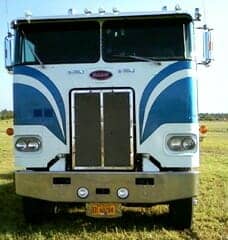 Nowadays, truckers have the option of listening to their own personal music choices when on the road, rather than just whatever is playing on the radio, via a truck stereo and portable music players. Thus, the term 'trucking songs', incorporates more music than years ago.
Some drivers are satisfied to listen to whatever is playing on the radio. Some have subscriptions to various programs for radio, that allows them a large variety of tunes to choose from , in whatever genre of music they like…..an excellent choice for the trucker!
With our more modern day technology, drivers often listen to audio books, talk shows, podcasts etc. as well on satellite radio. There are even several channels dedicated solely to trucking music and topics of interest for the driver.
What Trucker Tunes Mean to the Driver
The trucking industry suffers from a poor reputation, period. Trucking songs perhaps gives them an escape….. an escape from today's reality of the downhill slide of their industry.
Some Classic Driving Tunes
Giddyup Go – A story about an otr driver who reunites with his long lost son. A real tear jerker.

Eastbound & Down
– The 'good ol boys' theme song from the fun, light-hearted industry
favorite movie, Smokey and the Bandit. This tune hauls up images of Burt
Reynolds and Sally Fields outrunning 'bears' in a hot, black Trans-Am! A
fast paced catchy tune.

18 Wheels & a Dozen Roses – A country song about a long time driver.

Phantom 309 – An old classic trucking story. Remember this one on '8 track'?

Convoy – Inspired by the popularity of the CB radio. A true trucking song! Lots of awesome 'trucker lingo'!

I've Been Everywhere – A lively, spunky one about the travels of a long haul driver.

Teddy Bear – A sad tune about a trucker communicating on the CB, with a little boy who lost his dad in a semi crash.

Little Joe – A tale about a trucker rescuing a puppy, who becomes his good buddy. Get out the 'kleenex box'!

6 Days on the Road – A very popular song, often considered on of the original trucking songs! A keeper!

Mama Hated Diesels
Movin' On
On the Road Again
King of the Road
More Modern Driving Songs
I'm Truckin'
Highway Junkie
Driving My Life Away

Gear Jammer
Love a Rainy Night
Take It Easy
Maybe, music for the trucker serves a greater purpose than just entertainment.
Maybe it reminds them of why they got into the job in the first place and the few good things left about trucking.
Maybe, they're taking what 'good' is left in the business and savoring the moment, even if it's just the sheer love of cruising down the road in their rig, taking in the scenery on a sunny day, and listening to a favorite tune.
Many drivers will say, 'NOW THAT is what 'trucking' is all about.
More Articles For You