"Are truckers paid fairly?" The answer to this question largely depends on who you ask.
We already know what the truck drivers think. Here's another point of view from a representative of one of the mega carriers.
I received this letter from an individual employed by Schneider. For privacy reasons, I won't reveal his identity. He's a a driver recruiter for the carrier.
The following letter appears exactly as written.
I was reading your article about the few things that drivers aren't paid for and my personal belief is that drivers DO get paid for all of these items. Many of these duties are daily things required to be performed in order to do a truck driving job. And actually, we pay specifically for 4 of the 9 items you listed. And not getting paid for "sitting in traffic jams" is not true either. Drivers do. It just takes longer to earn the mileage pay. Make sense?
Performing circle check on truck and trailer…I believe you're referring to a pre and post-trip? That is a basic duty in order to assure the equipment is in safe working order. In comparison, it would be like saying a "telemarketer" doesn't get paid for using the phone. Or saying that someone that has to drive to work doesn't get paid for it? Technically, you could say that?
Anybody can a write an article about anything but doesn't mean it's true. Your article is intended to make the trucking industry sound worse than it really is. Can you write a positive article about driver pay? Because drivers do get compensated fairly for the work they do.
My response to his letter. 
Thank you for your letter regarding my article addressing 'unfair pay for truckers'.
Do Drivers Get Paid for All Duties?
You state that truck drivers 'do' get paid for all the duties they perform. The first duty a trucker performs 'on the job', is a pre-trip on company-owned equipment. What does Schneider pay the driver for this mandatory duty? Is the driver paid an hourly wage? The truck driver is checking COMPANY equipment.
If he finds a flat tire or brakes out of adjustment, or any other safety issue with the equipment, does Schneider pay him by the hour while he waits for the vehicle to be repaired?
What does your company pay the driver for sitting in a traffic jam for 5 hours? His mileage rate pays for the time he spends moving, nothing else. THAT rate is too low.
A trucker is a skilled tradesman and their time. ALL of their time when at work deserves compensation.  FAIR compensation.
If truckers were paid fairly, there wouldn't be the massive driver shortages we're experiencing lately. If truck driving were such a great job nowadays, there would be long line-ups for jobs.
It's truly upsetting to see someone working for the biggest carrier in the nation, who truly believes, that it's okay if a trip that should take a driver 10 hours, takes 20 hours, due to traffic, bad weather or whatever, and STILL pays the same wage. When that driver is stuck in traffic, he is still responsible for his truck, trailer and load and he's still on duty.
Would it be okay if your company asked you to work in your office 20 hours in a day, but only paid you for 10 hours?
Telemarketers aren't required to do phone maintenance prior to beginning their work, like a trucker.
Truckers still get paid for sitting in traffic jams, their trips just take longer? An utterly disgraceful statement.
It's this kind of blatant disregard for drivers by carriers, which help to create YOUR driver shortage.
Fancy Terminals vs. Higher Pay
I've personally known more than one driver from your company. While they thought their terminals were beautiful and catered to them in every way possible, with laundry and TV rooms or whatever, they would have just preferred to do without the fancy terminals, and be paid a better wage.
Large volume carriers like yours, were the initiators of driving the freight rates down, hoping to make a profit on volume.
Now that the rates are low and costs are high, your company and all the other carriers, still want to show a profit of course. The easiest way to do that is continue to pay the drivers wages that are well below the cost of living scale.
Positive Things About the Trucking Industry
You asked if I could say something positive about trucking? Sure, I can. Read the other articles on my website and follow us on Facebook. Like any job, there's good and bad.
Personally, trucking has been very good to me. It's provided an income for my family for many years. But, it's a cold hard fact, that the wages for truck drivers, have barely increased over the past number of years.
Let's call a spade, a spade here. Your company exists solely to make money, not to make drivers rich. Your company has also been extremely successful, too, no doubt about it. But the sad part of the story is, it has been at the expense of the well-being of the front line of the carrier's labour force, the drivers.
Are Truckers Paid Fairly – 30 Years Ago, Yes
Yes, I agree with you, when you state that just because something is in writing, doesn't necessarily mean it's true.
My statements are true to the letter, my friend. I've been involved in the trucking industry and have worn many 'different hats' over the years.
One thing I know for sure, and so does anyone who has been involved in the trucking industry for the past few decades or so,…..trucker pay hasn't even come close to keeping up with the cost of living in North America.
There are still a handful of driving jobs out there, which pay better than most. But, overall, driver pay now isn't much different now, than it was 30 years ago.
In 1979, in Western Canada, a company driver was making 25.5 cents/mile. Now? A driver earns around 35.5 cents/ mile or so. At the same time, hauling meat across Canada paid $1.00/mile. There are several companies today, that still pay only $1.00/mile.
And that my friend, is a crime.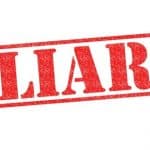 Check out "LIARS IN THE TRUCKING INDUSTRY"
Related Articles