How old do you need to be to become a truck driver?
If you've ever asked yourself this question, you're not alone.
These days many folks (both young and old) are considering starting a new career as a truck driver.
If you were recently laid off and need steady work or are finally getting around to fulfilling your lifelong dream of driving a big rig, you'll need to get your Class A commercial driver's license (CDL) before hitting the open road.
Just remember that depending on your age, it may be years before you're able to drive outside your home state.
In fact, there are a number of CDL age requirements.
One of these trucking regulations for age limitations, is the interstate CDL age requirement.
In a nutshell:
18-year-olds can get CDL's in every state
CDL holders who are younger than 21 can only drive within their state of residence
After turning 21, they may operate commercial vehicles in all other states
INTERSTATE CDL AGE REQUIREMENTS MAY BE ABOUT TO CHANGE
Rule changes are currently being considered that would lower the age limit requirement for over the road truckers to 18.
In February of 2021, Indiana Representative Trey Hollingsworth sponsored H.R.1745 – Developing Responsible Individuals for a Vibrant Economy Act, more commonly known as the DRIVE-Safe Act.
It's a contentious and political issue, so it may not pass.
On one side are Wall Street analysts and trucking company executives squawking about the perennial " truck driver shortage."
On the other are highway safety advocates concerned that 18-year-old long-haul truckers will put the general public at serious risk.
The former claim that younger drivers will spur economic growth, while the latter point to issues like:
Immaturity
Poor decision making
Unnecessary risk taking
Though the Act doesn't have much momentum, parts of it were recently slipped into the Infrastructure Investment and Jobs Act which may get more bipartisan support.
In September of 2020 the FMCSA began looking into the feasibility of allowing younger drivers to transport goods across state lines, but more than a year later details are scarce.
However, young veterans and men and women in the National Guard with verifiable truck driving experience may be exempt from this rule.
For more information, check out the FMCSA's Under 21 Pilot Program Commercial Driver's License website.
YOU'RE NEVER TOO OLD TO BECOME A TRUCKER
These days many of us are living longer, and some drivers keep on trucking well into their 80's.
As long as you can safely drive a semi, pass DOT physical examinations and drug and alcohol tests, and perform all the other tasks associated with the job, you can theoretically be a trucker at any age.
In other words, age isn't nearly as much of an issue as:
Overall health
Physical fitness
The ability to pass drug and alcohol screens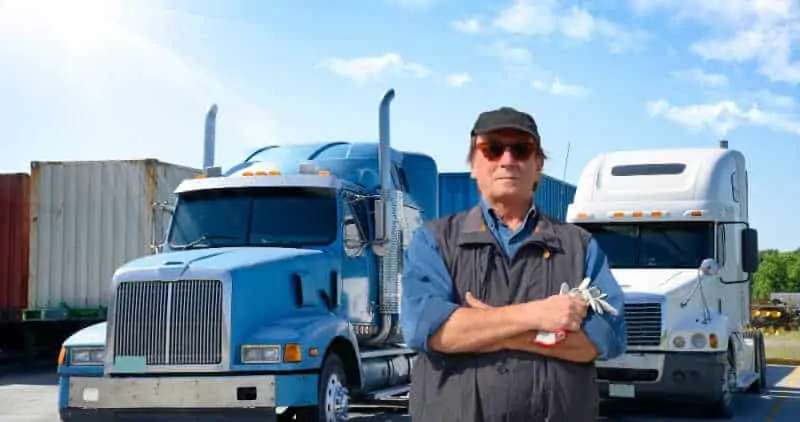 OLDER DRIVERS MAY BE SAFER DRIVERS
As we age our reflexes and motor skills suffer, but these conditions may not make older people unsafe truck drivers.
The truth is, the last thing you should do in an 80,000-pound tractor-trailer is reflexively jerk the steering wheel one way or the other.
In fact, driving big rigs is all about:
Looking ahead
Planning ahead
Checking your mirrors regularly
Having at least one escape route at all times
Maintaining safe speed and following distance for the conditions
And you guessed it, none of these require catlike reflexes.
Statistics actually show that older truckers tend to make better decisions and drive more responsibly.
In addition, unlike young greenhorns, older drivers are less likely to be bullied by dispatchers into driving in ice and snow and taking "hot loads" when they're tired or almost out of hours.
In the end, older drivers are often safer than younger ones.
Sure, it may take them longer to get in and out of the cab, but so what?
AGE LIMIT RESTRICTIONS FROM STATE TO STATE
Regardless of which state you're from, the age limit restrictions associated with getting your CDL are the same.
To recap:
18 year olds can get their CDL's in every state
Until turning 21 they'll only be able to drive within their home state
When they turn 21, CDL holders will be permitted to operate commercial vehicles between states
CDL LICENSING REQUIREMENTS FROM STATE TO STATE
Though individual states test new drivers and issue CDLs, regulations come from the Federal Motor Carrier Safety Administration (FMCSA).
This means that everything should be standard whether you live in Texas, California, or North Dakota.
Occasionally there are minor variations. But to get your CDL you'll generally need to:
Be at least 18 years old
Have had a valid non-commercial driver's license for at least two years
Prove residency and citizenship with a passport, driver's license and/or Social Security card
Provide documentation showing legal immigration status and right to work if you're not a citizen
Pass a DOT physical
Submit to DOT criminal and driving background checks
Be able to speak, read and understand English
Pass written exams
Pass behind-the-wheel road and skills tests
If you're interested in getting your Hazardous Materials (HazMat) endorsement, you'll also need to undergo a federal Transportation Security Administration (TSA) threat assessment.
This program was instituted to meet requirements set forth by the 2001 USA Patriot Act.
You won't need to provide past work history to get your CDL, but you will when applying for jobs with carriers.
CDL AGE RESTRICTIONS IN CANADA
Depending on the province in which they live:
New CDL drivers in Canada must be either 18 or 19
Bus drivers may need to be at least 21 years old
All drivers must pass a medical examination
In April of 2013, Canada's Ministry of Transportation made changes to the Senior Commercial Licence Renewal Program that affects Class A, B, C, D, E and F drivers between the ages of 65 and 79.
It mandates that:
Written knowledge tests (like for the air brake Z endorsement) and license renewal will be done every 5 years
Road test (retests) will be required in the event of a collision with a subsequent moving violation conviction, or the accumulation of more than two demerit points
Commercial drivers with Class A, B and C CDLs who fail to submit medical reports will have their licenses downgraded to Class G
In Ontario, commercial drivers with Class A, B, C, D, E and F CDLs must submit a medical report:
Every five years if under the age of 46
Every three years between the ages of 46 and 64
Yearly if over 65
A medical report package will be mailed to all drivers (to the address on their license) approximately three months before it's due.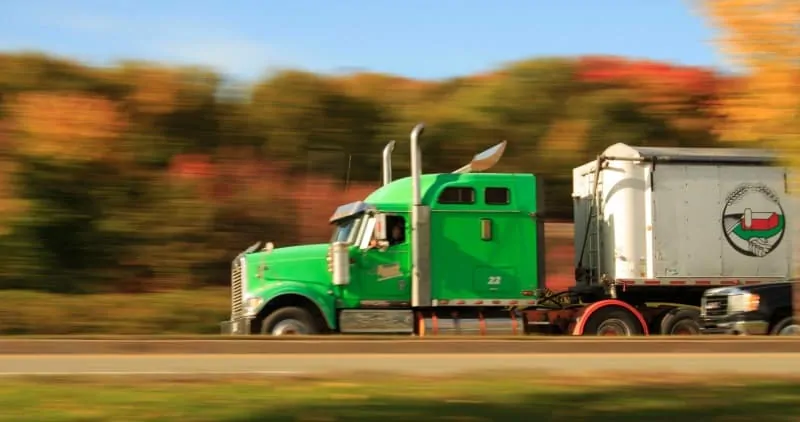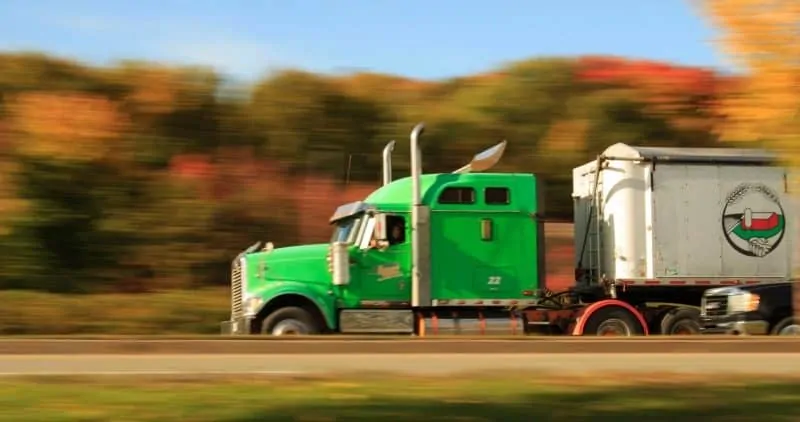 THE PROS & CONS OF BECOMING A TRUCKER
In the real world, trucking isn't like an episode of BJ and the Bear.
Truck driving can be stressful, depressing and physically demanding.
On the other hand, it can be rewarding, exciting and lucrative for hard workers with good attitudes.
Before taking the plunge, take some time to consider the following pros and cons.
REASONS TO BECOME A TRUCK DRIVER
You can get your CDL in just a few months or less
You can work independently
You'll see the country
Trucking allows you to use your hands and your mind
There's lots of steady work for safe, responsible drivers (current shortage of truck drivers which grows by the day)
Long haul, regional, dedicated, and local positions are available
Abundant career advancement opportunities in specialized, high paying niches
REASONS NOT TO BECOME A TRUCK DRIVER
Driving large vehicles in cities and unfamiliar areas can be highly stressful
Lack of respect from the general public
Long periods away from friends and family
High risks as a commercial truck driver
Often treated poorly by dispatchers, shippers, receivers, and law enforcement
Eating, sleeping, and showering at truck stops
Subject to tons of regulations
Relatively low pay
ISSUES THAT COULD DISQUALIFY YOU FROM BECOMING A TRUCK DRIVER
Even if you meet the aforementioned eligibility requirements, the following issues could still dash your dreams of becoming a new truck driver:
Taking certain prescription medications
Medical conditions like diabetes, high blood pressure and sleep apnea
Some physical handicaps
Criminal offenses such as drunk driving charges
Convictions for felonies like kidnapping, arson, and extortion
For some relatively minor physical impairments it may be possible to obtain a written waiver or medical exemption from a doctor.
Likewise, not all felonies will prevent you from getting your CDL.
When applying for truck driving jobs after getting your commercial driver's license, make sure you ask about each company's policies regarding disabilities and felony convictions.
F.A.Q's – CDL Age Requirements
How old do you have to be to get a CDL?
To become a new truck driver in the United States ,you must be at least 18 years old, regardless of which state you live in.
Will I need a special license to drive a truck?
Yes, your regular driver's license won't permit you to operate a commercial vehicle legally. Instead, you're required to have a Class A, B, or C commercial driver's license. To drive combination vehicles like tractor-trailers, you'll need a Class A CDL.
Do you have to have a regular driver's license to get a CDL?
Yes, you'll need to have a valid non-commercial driver's license to get your CDL.
Is there a maximum age for truck drivers?
No, as long as you're physically able to do the job there's no maximum age for truck drivers in the United States. Canada has their own set of rules, varying from province to province.
What's the CDL age limit?
There's no CDL age limit in the United States, but special restrictions apply to Canadian CDL holders older than 65.
Are there official age limit restrictions for Class A drivers?
No, in the US there aren't any age limit restrictions for Class A drivers.
What CDL jobs can I get at 18?
Within your home state, trucking jobs for CDL holders between 18 and 21 include local pick-up and delivery, driving dump and tow trucks, oil field work, and delivering lumber and other construction materials.
Do you have to take a drug test for a CDL?
No, but when applying for truck driving jobs after you have your license you'll be required to take and pass DOT drug and alcohol screenings.
Am I too old to become a truck driver?
No, as long as you're physically fit, able to pass a DOT physical and can drive a truck you're not too old to become a trucker. It's a good career for anyone who can pass the tests and do the job safely.