There are numerous deadly dangers in truck driving jobs.
There are so many ways a professional truck driver can get hurt in this profession.
I can bet there are some that you didn't even realize when you were training for your CDL.
It is easy to get seriously hurt or killed in this line of work, if you don't keep your head on straight and pay attention to the task at hand.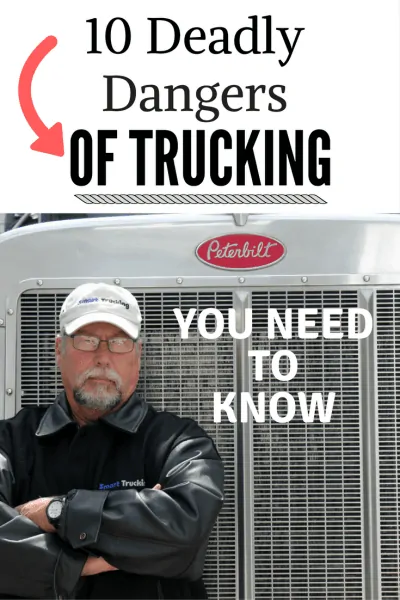 Behind the Wheel
– Driving tired. We all know that driving tired isn't smart, but it is surprising that it is still common in this industry. A driver should NEVER drive when tired.
– Distracted driving. Cell phones, texting is a recipe for an accident. These devices are a huge danger. Put the phones down and DRIVE!
– Driving too fast for road/weather conditions. It's pretty easy to get into trouble by driving too quickly for road conditions. Coming down a hill too fast in the winter or taking a corner or a ramp too fast can end in disaster. It never hurts to go a little slower when the weather is bad or when cornering.
– Delivering in a bad area. There have been multiple tragedies where truck drivers have been hurt or killed in unsafe areas, making a delivery or a pick up.
– Not doing a full circle check. Losing a wheel or a mechanical failure can be very serious.
Outside the Truck
– Pinning up to a trailer. Don't go under a trailer EVER. If you need to get under the trailer to remove a pin lock for example, place the back of the truck's frame underneath the trailer, in the event that the landing gear fails, the truck frame will support the trailer.
– Pay attention in truck yards, loading docks and parking lots. You can be hit, or squashed up against a loading dock by an unaware driver, who can't see you when backing up.
– Climbing up on a trailer roof, truck roof – Be careful when climbing up on a truck or trailer. It's easy to lose your footing. Use a ladder. Don't climb like a monkey on trailer doors to change a light. It can end in a broken leg or worse.
– Air bags can settle when working under a truck. The air bags can settle and squash you when working under a truck. Have another person present if you MUST be under the truck for any reason.
– Don't mess with the brake chambers. These are deadly and dangerous. Leave these for trained mechanics to deal with. There are powerful springs in these chambers which are strong enough to kill you if you attempt to take them apart improperly.
– Watch your footing on the truck frame or trailer deck. It's so easy to loSe your footing or get a foot caught and fall off. It's especially a hazard for flat bedders.
Think before you do anything around the truck or behind the wheel. The decision you make is vital to your safety and that of others.
When in doubt, take the truck or trailer to a repair shop, where a licensed mechanic can do the work, rather than taking unnecessary risks.
Related Articles