If you're preparing to attend a company paid CDL training program, these are some essential things you should remember.
These things will help you to get the most from the company sponsored CDL school and ensure your success at the program.
5 Company Paid CDL Training Tips
Be Prepared
This is especially important if you won't be attending a CDL school near your home.
If you'll be living away from home and you've been accepted into a company sponsored CDL training school, there are some things you should take along with you for the few weeks you are attending.
Clothing. Take enough clothing to get you through for the duration of the program. Or take enough clothing for one week and then count on doing laundry 1X/week.
Work Gloves. Take along a pair of work gloves which may come in handy from time to time.
Note Book + Pens. You'll need a lined notebook for taking notes and a handful of pens. DON'T attend without pens and expect to borrow from others.
Take What School Suggests. The school may provide a list of necessities you'll need to bring along, which they don't supply.
Food. It can be a great idea to take along some prepared food/meals from home. This will save you time and money. Eating out in restaurants can add up over a number of weeks.
Cash. Take along some money or have funds on your debit card, for miscellaneous expenses you may incur. Include in this, enough money to pay for your transportation home, in case you drop out of the program for whatever reason. For example, you could be surprised to find the accommodations are less than adequate or something goes wrong at some time. Don't find yourself stranded 1000 miles from home!
Be prepared without excuses. If you aren't, it will be your loss at the training.
Being prepared will save you time, money and allow you to get the most out of the program you are there to benefit from.
Related > What You Need to Know About Paid CDL Training
Focus on the Goal – Completing Your CDL Training
Go in With the Right Attitude
The whole process relies heavily on having the right attitude going into the program.
A positive, open-minded attitude is essential. Be ready to take in lots of new information.
Your future relies on passing this CDL program.
Your trucking career relies on how well you do at the program.
In most cases, your income for the rest of your life can be dependent on how much you gain from the program. It can ultimately determine how well your family will be able to live, whether they'll be a 'have' or 'have not' family, could rely on how well you do at this course.
Bottom line, you can't afford to blow it!
Don't Be Distracted By Groups
Think back to when you were in school. Did you learn best in a group or on your own?
Many people learn better on their own and find groups a distraction.
If you personally find groups hard to learn in, cope with in as best as you can. Try not to allow yourself to be distracted by other students.
That's not saying you have to be rude to others in the program, maybe just stand offish enough that their antics and socializing do not distract from your learning.
Don't go out at night on the town to drink and party. Stay in and review your notes from the day's lessons.
Ask Questions. Be Sure to Get Answers.
To get the best value from the training, be sure to ask questions when in doubt. Don't let anything slip by that you don't understand.
Record any information during the class time you don't understand, so you will remember to find out the answers.
Be sure you understand everything, no matter what it is, be it the circle check, brake functions, load securement, road signs or whatever.
Review anything you are unsure of with your instructor for clarity.
Related > 7 Keys to Achieving Success at a CDL Truck Driving School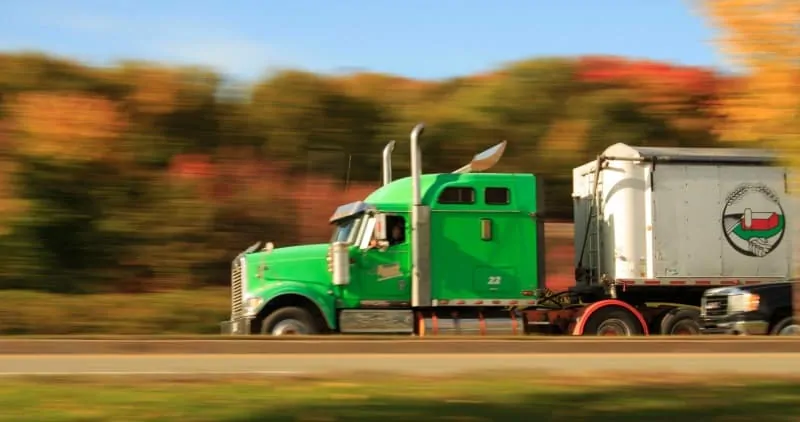 The Importance of Seat Time
The most important part of your CDL school training is seat time.
Unfortunately, some CDL training schools fail to give their students sufficient seat time.
No amount of class time is a substitute for hands on learning when learning to drive a truck. You can memorize a manual from cover to cover and still not know how to back-up or shift a standard transmission.
This is your most valuable time with your instructor.
Seat Time Tips
Get as much time behind the wheel as you possibly can.
The good schools will allow you more practice time after class.
When you get behind the wheel, stay clam, relax and focus on the task. Stay calm and don't get rattled.
Listen to the instructor and allow no distractions. No smoking, no music and no background noise. This is especially important if there's more trainees in the truck when you are driving.
Be aware of what is around the truck and trailer at all times.
Check the mirrors often
Don't allow yourself to get discouraged. Driving a truck is a skill, which takes time and practice. Practice makes perfect.
Whatever skill you're trying to learn, do it again and again and again and then ask the instructor to let you do it again.
Related > A Guide to CR England Paid CDL Training + Company
Backing Up
Backing up a tractor trailer is the hardest maneuver new truck drivers need to learn.
It's something that you will the hang of IF you practice.
Hang out the window and look. It can be helpful for new students to hang out the window and look behind to see which direction the trailer is turning. I personally encourage this practice, although some driver trainers prefer that trainees use the mirrors only.
Honestly? There is no law or rule as to whether or not you need to use just the mirrors. Do what works for you until you master it.
If your driver trainer gets ignorant with you about looking out the window, ask him to show you in the FMCSA handbook where this is not allowed. He won't find it. It is allowed.
Many OTR drivers do this and have done it for years until the trailer comes around to the point where you can see it in your mirrors.
Get out and look as many times as you need to, to be sure you won't hit anything or anyone.
Pull ahead and straighten up as many times as you need to, when you are learning.
Move slowly, especially when blindsiding. Take your time, don't get rattled and practice. A lot.
The goal is to place the trailer in the correct spot without hitting anything. You don't get points for anything else.
Related > How to Back Up a Tractor Trailer the Right Way
Say 'No' to Lease Operator Programs
Many trucking companies near the end of company paid CDL training, may try to encourage students to lease a truck in their Lease Operator program.
My advice to you, is to never do this.
Many new drivers will want to come owner operators some day and many will, but the right time to do it is a few years or so later. It's important to accumulate plenty of practical experience as a company driver first.
These programs are a trucking company's way of trying to appear as though they are on your side and trying to help you.
In reality they're really trying to have you absorb all of the costs of operating their truck, whether it makes a profit or not. Their goal is to make money, whether it helps you or not.
Trucking is a very tough and dirty business. You'll have enough on your plate coping with your newly acquired truck driving job.
You won't have the time to learn how to run a business. Don't trust a trucking company to help do that for you!
As a new CDL driver, your plate is already full.
Forget about being an owner operator right out of the starting gate.
More Articles For You