DOT hours of service rules. The trucking hours of service regulations are probably one of the most sensitive and controversial issues in the trucking industry today.
Two countries that are major trading partners, the U.S. and Canada, should operate under the same system and rules.
In the beginning, the U.S. established a working system to govern hours of service for truck drivers.
Canada, which didn't have a system at all, then implemented their OWN set of rules, which didn't coincide with the American system.
As a result, much of the freight movement on this continent that moves across the Canada/U.S. border falls under the two systems with different rules, causing problems for the trucker.
---
Improved Accident Statistics For Big Rigs
It is evident over the past 60 years, no doubt, that the trucking industry, has the lowest accident statistics ever.
There's no question the DOT hours of service rules and regulations make for a better, safer system.
It's fairly simple and easy to follow and allows for sufficient rest time. Yet, there are non-industry lobby groups who aren't satisfied with the present DOT H.O.S. rules, such as MADD.
Forced Dispatch and Night Driving
One of the problems with the hours of service rules, is that aggressive dispatchers can literally and legally, force truck drivers back on the road at 2 am if their hours of rest are up and they are 'technically' legal to drive.
Many truckers do like to drive at night.  Most 'night drivers', have adapted to this, out of necessity…. their job demands it. Others prefer it because the roads are not so busy.
But nonetheless, driving at night comes with greater risks than day time driving. It's a proven fact, that humans 'need' to sleep when it's dark. Being forced to drive because the time clock says you should, and the DOT hours of service say it's 'legal', doesn't mean it's necessarily a good idea.
It's understandable that if all big rig drivers drove in daylight hours, the North American highways would be even more congested than they are already!
But, daytime driving does make for safer driver conditions, for everyone on the road.  ISN'T that what the mandate of the DOT hours of service regs ARE ALL ABOUT…….SAFETY?????
Over congestion on North American highways is another issue that our governments haven't resolved either!
---
Where the Heck are the Rest Areas?
In the U.S., the 34 hour reset of hours is a good idea as it forces the trucker to stop, relax and be away from driving for sufficient time to refresh.
Canada has a 36 hour reset period and 120 hr. driving cycle.
However, it's ironic, with a longer reset period and a longer on-duty cycle than the U.S., that truck stops and decent rest areas in Canada, are pretty scarce.
Why bother to give the truck driver so much driving time and not make provisions for decent rest areas?
If safety is REALLY the issue, Canada needs more rest areas. The Canadian authorities mandate these so-called safety regulations, but turn their heads, when it comes to the obvious need for decent stopping areas.
Rather than spending tons of money on DOT inspection stations every 50 miles, just MAYBE, Canada could use some proper rest areas.
Truckers that run in Ontario know there are 4 DOT inspection stations between the Windsor and Barrie corrider! Absolutely ludicrous and a waste of the Canadian tax payers dollars!
IF there were sufficient places for truckers to rest, maybe there wouldn't be the NEED for so many inspection stations!
---
Hours of Service Regs Out the Window!
North of the 60th parallel, Canadian hours of service rules are thrown out the window.
AGAIN, IF safety is really the issue, why toss these rules and regs out the window, just because the area is remote? Consistency with rules is important.
A truck driver still get tired traveling in remote areas!
---
Team Driving: Beating the Hours of Service Rules?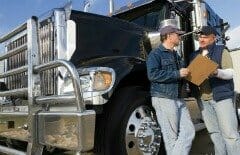 The DOT hours of service regulations bring about the widespread demand for team driving.
With such restrictions on trucker's hours of driving, it forces the trucking industry to look to teams to meet the rigid demands of their customers, to stay in business.
It should be noted, that if one goes in search of accident related statistics for team drivers, the facts are pretty much non-existent. Why?
The Department of Transportation (DOT)enforces H.O.S. to make our roads safer, which in turn, forces the trucking industry to implement an alternative practice, team driving.
Why? Because it's legal. Yes. But, is it safe? No. When accidents occur, there's usually a pretty smart trucking accident attorney leading the way with a law suit, focused on the dangerous practice of team driving.
It's difficult to get proper 'restful' sleep when the truck is moving, and the driver off-duty is relying on his co-driver to keep the truck on the road.
Some drivers can do it successfully. But, just because some drivers do it, and haven't crashed, doesn't mean this a great system.
Teams are controlled by the trucking company, not by the team. They'll find themselves in big trouble if they stop any longer than it takes to fuel up and have a quick bathroom break. There are situations where a 4-5 hr.+ shut down period for a team, would make a huge difference to the well-being of both drivers.
Some foresee the future of this industry, leaning solely to teams, given the present H.O.S. regs. This will not mean good things for this already over-stressed industry, nor does it necessarily mean our roads will be safer either.
---
How to Resolve the DOT Hours of Service Issues
Airline pilots aren't required to keep logs that are heavily scrutinized, like a trucker's log book. Bus drivers, only recently, are being held accountable for proper log book reporting and compliance.
The DOT hours of service and regs, need more common sense and practical input into the actual policies and regulations from the trucking industry itself, and not by some pencil pushers in the government who are attempting to be re-elected in the next election.
If shippers and receivers were 'forced to pay' deliquency time and waiting time at loading docks, much of the hours of service and tired drivers issues would be resolved.
Loading and unloading delays eat away a trucker's driving hours allowed. When the driver is finally ready to go, he can then drive only a few hours until he runs out of hours, THEN get up at 2 am, when his logs say he's legal to go, to be on time for a delivery.
We need some COMMON SENSE
brought into the limelight in this industry.
Let the trucking industry have a voice and some input into some ideas, that would help bring about the INTENDED GOAL….. SAFETY.
---