This post may contain affiliate links. You can read the full disclosure policy, which is pretty dull, but
here it is.
by Mark Sinclair
(Roseburg Oregon)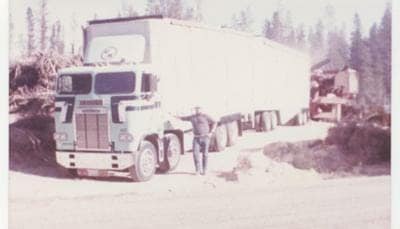 The Mule Train
My first truck driving job.
Going back in my memories, a few years, I remembered how I first entered into the trucking industry.
First of all, I am a 2nd generation trucker, and my son has taken up the occupation to follow in the family footsteps. However, I did not have the opportunity to learn to drive from my father. Like many truckers these days, I went to a truck driving school.
The school I went to was in San Antonio Texas. Anyone who has ever passed through this part of Texas, knows that the tallest hills around here, aren't really hills! The school, however, was a quality professional CDL training school.
Just after I completed the truck driver training, I ended up moving back to western Oregon, where I did then use my dad as a resource and was able to procure a job driving a "mule train" chip truck, my first truck driving job.
This is where the story gets interesting. My nightly run was from Eugene Oregon to Klamath Falls Oregon, over the Willamette Pass. This pass is a very beautiful drive, but is one of the tallest passes in the state of Oregon.
To add to the drama of a young truck driver's first job, I had the audacity of beginning my new career in the middle of December! The ice and snow were a lot to contend with, and the fact that I hadn't even seen a set of chains during school, didn't help very much. Imagine the first time I actually saw the run away truck ramps!
I have to say that I learned to shift gears and steer in central Texas, but I learned to really "drive a big rig truck" on the Willamette Pass that winter!
S.T.G. Comments: First truck driving job.
Great story, Mark! Driving a cabover truck for your first job too!
There's nothing like being put in a situation that forces you into learning something, to stay alive! Those big hills would be pretty scary for a new driver! Good for you to master the job, early on!
Where Would You Like to Go Next?