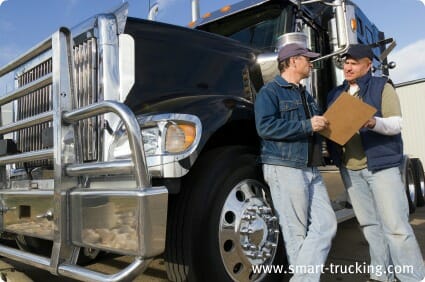 Team driving  for truck drivers is very different than driving solo.
If you're considering becoming a truck driver or considering accepting a driving job with a partner, these 3 real life stories by truckers who have driven team, will give you an idea of the types of issues you many face.
It's a given you'll be paired up with a driving partner if you attend a paid CDL truck driver training school.
Go in with you eyes open so there's no surprises.
3 Real Life Team Driving Stories
1. Can You Trust Your Driving Partner?
I have had my Class 1 for 15 years now. My first driving job was for Michawn Transport out of Aldergrove BC.
At this company, drivers were to train, by driving with different drivers, to get your time behind the wheel. What a joke! Most of the drivers in that company were like me, "NEW DRIVERS" teaching each other!
There were some drivers who had been driving for many years there and I am sure there were some good truck drivers in the bunch. The pay for a "new driver" was horrible…. $50.00 bucks for a Canadian run and $100.00 bucks for a US run. It was really just enough money for on the road expenses, but anyway, I accepted it.
I hated every second of team driving. Often, my driving partner,would make crude comments and make 'rude suggestions'. I always prayed that they knew what they were doing behind the wheel!
I remember one girl I drove with thought she was a pretty good driver. One day, we picked up a load of tomato plants out of Ladner, BC and were taking them to Oxnard CA. When she was driving and I was in the sleeper berth, I heard drivers yaking on the cb radio, about how some one had no respect for the hill! I decided to climb out of the bunk, and to my surprise, they were talking about her!!! Our truck was flying down the hill! Because we were going so fast,I thought we were in some kind of trouble! I asked if we had lost our brakes or what the heck was going on!
She replied, "we are really light and making good time!"
I really freaked out at this point! How dare she take my life and others into her hands! We were professional drivers and this was not very professional!!! I never saw her again after that run.
Don't get me wrong… I am sure there are a lot of great teams out there, but all the time I drove team , I only had one good driving partner in that company and he taught me most of what I now now. He took his job seriously and every second behind that wheel, he knew some thing could go wrong. He was alert and always on his toes. I always felt safe with him behind the wheel.
I grew up in a trucking family. Both grandfathers, my father and most of my uncles are drivers. I am the only female driver in our family. My father is one of the best drivers I know. He has taken early retirement and people still call and beg him to drive their trucks for them. He took pride in his trucking job….not one ticket EVER or one accident EVER in almost 50 years of driving!!! He was a great role model to me and his younger brothers!
Team driving is great for couples, and for people who know their partners well. I don't think team driving should be allowed when the drivers don't know each other, OR when they are both just learning to drive a big truck.
I look back now and wanting my foot in the door so badly and wanting the experience I needed to land a better job in the trucking world, I risked my own life along with theirs. I was green then, and shouldn't have been with other new truck drivers and when I look back, I wonder what I was thinking.
by Lynne
(Okotoks, Alberta, Canada)
Related > How to SurviveYour First Year as a New Truck Driver
2. Finding the Right Driving Partner is the Secret to Team Driving
Years ago, I drove with a partner, as a team driver. We owned the truck and reefer trailer, and hauled produce out of California.
The truck was a very nice 2006 Peterbilt with a new Great Dane trailer, Thermo King Reef unit.
I knew my co-driver pretty well and his driving abilities, which raised my level of confidence in the team driving thing! I couldn't imagine partnering with a co-driver that I
didn't know.
We hauled a variety of products to the Southwestern U.S. from our Ontario base. The company we worked for out of Parry Sound, ON was owned by a ex-truck driver,
so the schedule was always fair and reasonable and never hectic… mostly full loads delivering into L.A. The outbound trips were easy and casual.
Our return trips involved loading produce, and delivering into the Ontario Food Terminal……the product rotated seasonally from the Yuma, AZ area to Salinas, CA. On the return trips, we had to stay with the program pretty steadily. The buyers 'loved', teams because of the fast delivery schedule, but there was no time for messing around.
We would load up our product, scale, balance out and his the road, for the long trip home.
Team driving issues? A few minor ones. We had difficulty agreeing on where to stop. We had very different food preferences so we'd compromise and alternate on choosing a truck stop.
Seat Settings. I had very specific settings for the driver's seat, which we had originally customized when we bought the truck. My partner developed some minor back issues, so later on, he wanted the sear changed. We had more than a few heated arguments about that issue!
Who pulps the product? When we travelled through areas in bad weather, we'd flip a coin to decide who'd get out to pulp the temperature of the load every few hours. It wasn't a big deal, but none the less, it sometimes was, if the weather was really lousy and cold!
Smooth driving. My co-driver complained off and on that my shifting was a bit 'rough' and woke him up sometimes when he was in the sleeper berth. What could I say?
Overall, our partnership as team drivers, was better than most on the road. There were always small matters that we encountered, but no big stuff.
We never put the truck in the weeds, had any claims or froze any produce!
Our success was partly because the company we worked for didn't push us for ridiculous schedules.
Successful driving teams require skilled drivers with level heads, calm nerves and the ability to compromise!
I'd recommend it if you don't have a family, are young and are partnered with a skilled driver that you know.
Related > What You Need to Know About Team Truck Driving Jobs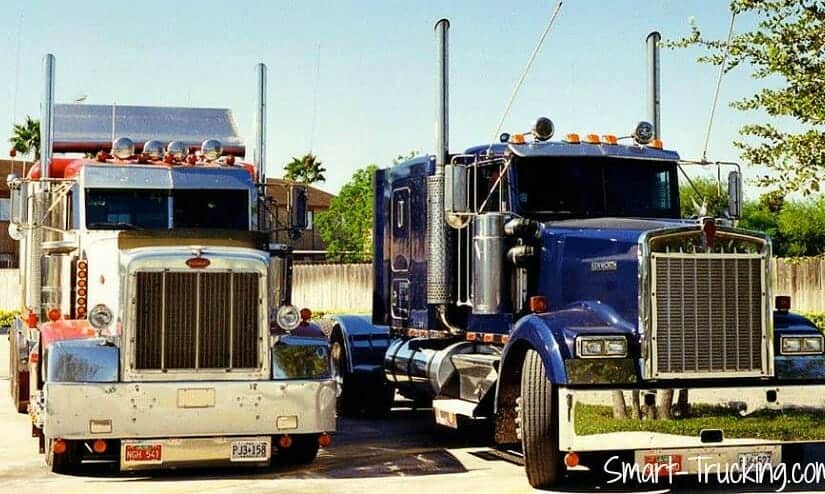 3. Driving With a Team Partner is Risky
Team driving has its ups and downs. I enjoy team driving because I do it with my fiancé. But, the risks we endure are many. We are considered a "full" team where we drive, but we don't want to run as they would like us to.
We enjoy being in the truck together, but there are times we don't get to enjoy being together, such as when one of us is sleeping, while the other drives. Yes, we can move a lot of freight a lot farther, but it depends on the overnight weather in the areas where we travel.
A solo trucker runs most of his time during the warmer part of the day in winter months, so the roads are clearer and easier to follow. As a team, the night time driver has to endure the sub-degree temperatures and blinding fogs and is more likely to hit animals and must deal with drunk drivers.
Yes, there are always risks in any OTR driving position, but I feel they need to regulate the hours of service for teams. They should allow the truck to stop a full 8 hours, before it rolls again. That way, both drivers can get a lot more rest and a decent rest, when the truck isn't moving.
The 8 hour break would also allow the drivers to have a break away from their co-driver for personal time, especially if you aren't driving as a team with your spouse.
More Articles You May Like