Ever wish you had the best brightest flashlight, when you find yourself broken down roadside at night?
It could even be worse if you were in the middle of nowhere and you're stuck on the shoulder, worried if some inattentive driver will hit your truck.
Or even worse. A moving vehicle could hit YOU.
So, what if there was a tool you could use to illuminate in every direction?
In this post, we're going to discuss the best brightest flashlight truck drivers can use to be easily spotted on the road and in multiple common everyday situations.
The Guardian Angel Elite Series Device solves that problem.
Interestingly, it's not just a flashlight but also an amber light and a work light incorporated into a single device.
It's a three-in-one device.
YOU SHOULDN'T BE WITHOUT ONE.
BUY THE GUARDIAN ANGEL DEVICE.
Features of the Guardian Angel Safety Light
It's portable. You can stick it on your shirt, jacket, or hat.
It's lightweight. It only weighs 3 ounces.
Magnetic mount. You can easily mount it to your truck.
Weather resistance. It can be used when it's raining, snowing or when the sun is out. It doesn't matter.
Long battery life. When the battery is fully charged, it can last up to 150 hours.
Long-range visibility. If the LED flashlight is turned on to full effect, it can be seen from 5 miles away.
Independent light control. Each light control is operated independently.
SOS flash mode. In case you need immediate assistance, you can activate the SOS flash mode.
Brightness adjustment settings. You can easily adjust the brightness levels from low, medium to maximum.
Battery life indicator. The device will alert you when the battery is about to run out of charge.
Sturdy and durable. It's made out of an ABS shell that is shock and crush resistant.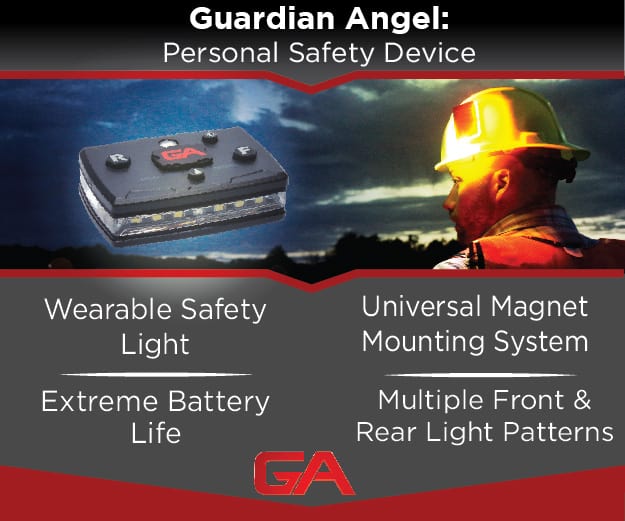 How To Turn on the Device
To turn on the Guardian Angel device, press the F and R button for at least 3 seconds.
Once it has switched on, you will see a work light illuminating on the front; that means, you can go ahead and use it.
How To Use The Device
If you look closely, the Guardian Angel device has 5 buttons; F, R, brightness control, a big button with GA logo at the center, and the work light button on the front.
Red Work Light. To activate the red work light, press the button with a flashlight symbol on the front.
White LED Lights. If you want to turn on the bright white LED lights, press that button again; although it doesn't activate the full lights on the front, just two beams.
Front Flashing Light Mode. If you want to activate the front light flashing mode, press the F button (F for front). Also, you can turn on the full LED lights (all the beams) on the front by continuously pressing the F button.
Rear Flashing Light Mode. Alternatively, if you want to turn on the rear light flashing mode, press the R button (R for rear). However, if you want the rear LED lights to activate without blinking, press the R button until it happens.
All Lights. But if you're in an emergency, you can press the center button with the GA logo to activate all the lights at the same time.
Otherwise, you can easily adjust the brightness level using the bright control switch just above the F button.
How To Mount The Device
The Guardian Angel safety light can be mounted on your shirt, jacket, hat, or truck.
At the bottom, you will notice a magnetic base with positive and negative sides that can be separated to attract each other whenever you want to mount.
To mount it, you need to separate the magnetic base, put the rare earth magnetic base underneath your jacket or shirt (preferably on your shoulder) and position the device on top of it.
It will stick like candy on a baby.
Beyond that, you can stick it on any metal part of your truck by directly attaching the magnetic mount. Simple.
How To Charge The Device
To charge the device, you need to first remove the magnet mount base at the back.
After you've taken it off, you will see a USB plug cover written "CE" at the top.
Next, pop the USB plug cover using your fingers; if it's too hard, you can use a knife, or a screwdriver but be careful not to break it.
Connect the USB cable to the port and charge it.
While the device is charging, you should notice the front work light slowly blinking. Once the battery is fully charged, the front work light will flicker twice consecutively.
Note: The USB cable charger is included in the product package.
The Three Power Modes
The Guardian Angel safety light device has 3 power modes; dim, medium, and maximum bright.
To alternate between the three different power modes, all you need to do is to press the brightness button.
The low light mode will help you to save the battery and the maximum light mode is for when you want to be seen from over 5 miles away.

What We Like Best About This Powerful Light Device
For starters, there are different Guardian Angel device models that could be ideal for truck drivers.
Coloured Light Choice
Top of the list is the red/blue pattern and white/red wearable safety light model.
Of course, if you want, you can choose a different color combination from
blue/blue
white/yellow
white/green
red/green
to white/blue
Basically, you're spoiled for choice when it comes to selecting different color models.
Independent Controlled LED Lights
The device comes with independent controlled LED lights. There's one on the rear and another on the front.
Not to forget, the SOS/infrared light is situated at the top of the device.
If your eyes are sensitive to light, you can illuminate the front light LED at low brightness to inspect something in your truck especially at night.
But if you want to go full blast, you can adjust the brightness to maximum and turn on both the front and rear LED lights.
Heck! If you want, you can pop the emergency button on top to activate all the lights including the SOS/infrared light. It can basically turn from a flashlight to an amber light.
Brightness Setting Memory
Quite impressive, we've noticed the Guardian Angel device remembers the brightness setting where you left it off.
Bright For the Daytime
Better yet, the maximum brightness setting can make it to be seen during the day.
Small, Portable
What's more, the device is small and it only weighs 3 ounces. That means, if you mount it on your shoulder, you won't even notice the extra weight.
Strong Magnet Mount
Even if you jump or hit a bump, the magnet will still hold tight.
In fact, this magnet is incredibly strong. I was amazed at the strength of the magnet!
Rugged
Despite its small size, the Guardian Angel device can take a lot of hits with just a few scratches.
Surprisingly, you can drop it on concrete from 10 feet high a couple of times and it will still work.
Waterproof.
What if it rains?
No sweat. It's waterproof. Your light won't be affected.
In fact, you can submerge it in water for a few minutes and continue using it with no issues.
Reliable Battery
Talking about the battery, it can keep the device running for up to 150 hours.
Think about it. You can go for a week without the need for a recharge.
Of course, if you turn on the emergency lights and increase the brightness to high, it won't run for that long; but it will be enough to keep you illuminated on maximum settings for at least 10 hours.
When the battery is low, the device will dim slightly telling you that it's time to charge it.
Easy to Recharge
For truckers like us, you can recharge the device by using the 12V cigarette lighter or USB port in your truck.
Related > What Every Truck Driver Should Know About Dangerous Deliveries
5 Ways The Guardian Angel Device Can Be Used by the Professional Truck Driver
As a truck driver, there are countless times where the nothing but the best brightest flashlight will do!
It can improve trucker safety during a breakdown.
The Guardian Angel device can be mounted on a disabled vehicle in case of a roadside breakdown.
Besides that, if your truck has broken down on the shoulder, you will definitely want other motorists to see you for personal safety reasons when you're going to check something at the back. Especially when it's night or dark.
Convenient lighting in your truck.
You don't need to hold a flashlight in your mouth when you want to illuminate a dark area in your truck or trailer.
The Guardian Angel device can easily be mounted to your shirt or jacket or hat.
It helps during an accident scene.
In case of an accident that needs immediate assistance, you could use the Guardian Angel on emergency mode to raise an alarm and call out for help.
Trucker accessory at a loading dock.
There are plenty of ways you could use the Guardian Angel device at a loading dock.
For instance, when you want to pick or drop a trailer in a dark area or when you're working under the hood of a truck.
Even when you're working with fork trucks or smaller vehicles zipping around at the loading dock, you can improve your visibility using the Guardian Angel flashlight.
Illuminate the path.
If you're in a dark parking lot and you're walking to a truck stop, you can use the flashlight as a trucker safety device.
Not to mention, it would help to ward off attackers who could pose a threat.
Conclusion
We highly recommend the red/blue and white/red pattern Guardian Angel device model for truckers.
It would make sense for a truck driver to have at least two or three such devices — one device to mount on your shirt and another device to mount on your truck simultaneously.
Of course, you would also need supporting accessories such as a traffic cone mount, arm strap, shirt clip mount, and a hard hat mount.
We can't emphasize this enough.
If you're a trucker, you need the best brightest flashlight on the market. It's a tool for the professional truck driver to stay safe and make the job just a little easier.
The compact Guardian Angel Elite Light device is our choice.
It really is worth the investment.