This post may contain affiliate links. You can read the full disclosure policy, which is pretty dull, but
here it is.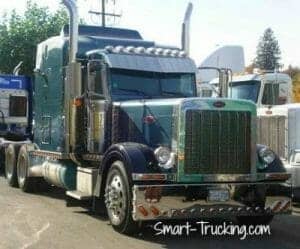 Trucking is a business and businesses constantly experience change. Adapting to electronic log devices, will be necessary for all of us in the trucking industry.
Sooner or later, it's going to be a fact of life for truckers. These computerized devices will completely take the place of the paper log. It's unavoidable. My advice is to just roll with it and get used to it. Use it to your advantage rather than fear it.
My Experiences With Electronic Onboard Recorders
During my trucking career, I hauled produce from the west coast of the US for years. Back then, I was able to utilize paper logs to my best advantage.
When I made a change and sold my reefer trailer and hired on with a big company that used electronic logs, I wondered quite frankly,
A) if I would survive financially, and
B) if I'd be able to adapt to the change in driving schedule required.
I was skeptical. However, my worries were unfounded. I found that using the electronic logging system, gave me a better quality of life. I was able to slow down my schedule, stop for more regimented meal times and get a decent sleep….. because I had to…. not much choice on the new system.
I drove more slowly because my speeds were regulated and patrolled. I found I began to relax and enjoy the drive a lot more because I was under less pressure. Instead of worrying about getting to my delivery the next morning that was 800 miles away, I knew that it wasn't legally possible…… and I was being watched and recorded.
I've been taking advantage of this new founded de-stresser and like it. It's taken a lot of pressure from me.
Yes, I have noticed some downsides. I do travel fewer miles per day. However, the trucking company I'm contracted to pays me for all waiting time, layovers etc., so it hasn't really affected my income.
However, this may not be so for all drivers. The trucking companies will need to compensate their drivers accordingly. They should see that drivers are making less money in the same amount of time. If they don't, the driver shortage will continue to worsen. Driver turnover is already a huge problem and it's going to get even bigger in the near future.
In my own case, I didn't really lose any money. When my schedule and pace slowed down, so did my speed, which improved my fuel mileage by over a mile per gallon. The loss of money wasn't what I had expected.
The fact that my company pays waiting time has been the key for me. Companies will need to pay more to help offset the lower miles drivers can cover in a day.
For me, using the electronic logging system has been a positive thing. If your company has them, try to learn to use them to the best of your advantage.
A nice perk is when you are tired, you send a message to your dispatcher saying "I'm too tired to drive, or the roads are too bad to drive." No dispatcher in his right mind is going to force you to drive when you've told him the conditions aren't good. Your message is in writing…. no company wants the liability if you are involved in an accident after you've told them it's not safe to go.
Adapting to electronic log devices will be a fact of life for all of us, in the years to come. Companies won't be able to bully the driver. It's always ultimately the driver's call when tired, but the electronic logging system makes the decision to call it a day, a whole lot easier than it once was.