This post may contain affiliate links. You can read the full disclosure policy, which is pretty dull, but
here it is.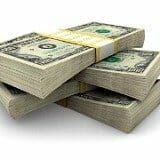 Rather than increase the mileage rate, truck driver pay incentive programs are being offered by trucking companies to their workers.
They have the idea that a driver incentive plan is a 'better deal for drivers'….a tricky way to lead truckers to believe they are being paid a better wage.
---
Here's a driver pay incentive plan which I am personally quite familiar with.
And Just Where Is the Incentive?
The carrier runs it's trucks on the electronic log book system. There's no cheating on this system…. and if you do, you loose money from the incentive plan.
The carrier has a customer who ships 24/7 and demands load pick-ups to be a time during the night. Pick-ups from 2-4 a.m. are the norm.
Once the driver departs from the terminal to go pick up the load, the electronic log starts and the driver heads for a scheduled delivery time at the receiver.
If the driver is late, he looses money from the incentive plan. If he runs out of hours due to bad weather, traffic or any delay and delivers late, he looses money again from his driver bonus.
If the driver is tired at 3 a.m. and needs to sleep, and he therefore delivers late and again, he gets a deduction from his incentive pay.
So here's a carrier who feels running a driver through the night and penalizing him for having to sleep or slow down in bad weather is sending the correct message.
Overall pay to the driver isn't increased at all.
---
Customer Satisfaction Incentive
This isn't a driver incentive plan. It's a 'customer satisfaction' plan for on time deliveries for the management to show the owner.
No professional drivers would think it would be safe to run through a bad snowstorm, especially when they're tired.
The wad of money is like a carrot on a stick held out in front of the driver by management that says, 'do it our way and we'll reward you."
This carrier has changed their message with their introduction of the 'driver incentive plan', …. it's no longer 'get it there safely and do the best you can time wise'.
---
New H.O.S. Make Matters Even Worse
The new H.O.S. don't help matters because if you need a nap, the clock just keeps on ticking.
If you run into a snowstorm at 4 am, the incentive from the regs is 'better keep going or you'll run out of hours'.
Safe driving regs should have some input from professional drivers, to the guys behind the desks making the regs, who have never driven a truck.
This driver incentive plan is nothing more than another industry scam…. a scam to cheat the drivers out of the wages they so deserve for their hard work.
---
Trucker Comments
So the e-log STARTS when they leave the shipper???? Hmmmm. So I suppose the driver has arrived at the shipper, been allowed to park under the trailer, hook up and be ready to roll when its loaded and take his mandatory 10 hr break prior to all this? Oh, yeah, I suppose the tractor parking is level too so he can get a good rest in the sleeper too. I have had a few companies allow me to stay on property for my break and then they come wake me when loaded, but I don't think this is the norm. However, I generally have been run off and had to find a parking spot off-site, so trying to make this work for a bonus.
Make bonus another two syllable word = Bone Us. (By Cliff Gray)