This post may contain affiliate links. You can read the full disclosure policy, which is pretty dull, but
here it is.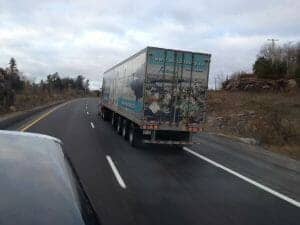 In Ontario Canada, we're preparing to go to 60 foot trailers. This move is a response to satisfy shipping giants, Walmart and Canadian Tire.
Once these 2 companies get these 60′ trailers, you can bet the auto parts haulers who haul for GM, Chrysler and Ford, won't be far behind in bringing them into their fleets. The large grocery chains will certainly be interested in them as well.
However, the M.T.O. still is insisting that Ontario trucks must still adhere to the maximum length restrictions. Drivers pulling these 60′ trailers will be driving a new style CABOVER PHONE BOOTH! STANDING ROOM ONLY!
What Will It Like to Drive One of These New Trucks?
The driver will literally need to stand up to drive one of these trucks… kind of like a milk man, UPS delivery or even a garbage truck.
Geez, that should be comfortable. Who can't wait to drive one of these trucks? When these 60 foot trailers hit the 'over the road market' and they most certainly will, the driver will be able to pull into a truck stop for the night and sleep standing up…. much like a giraffe.
In my time in the trucking industry, we've gone from 40′, to 42′, to 45′, to 48′, to 53′ trailers… industry said were only introduced to pull 'balloon freight…. very light commodities'… this only lasted for 6 months!
Now, we are going to see 60' trailers on our highways.
60 Foot Trailers = Higher Freight Rates & Increased Driver Pay? Think Again
No matter how long the trailers are, the freight rates haven't increased. The trucking companies aren't making any more money, nor are the drivers, with added responsibilities.
Here's a thought for the big trucking companies. Increase the rates you're charging the shippers!
But this certainly hasn't happened in the industry.
May as well quit pushing the trailer lengths by small increments and jump to 100′ trailers!
Ya…..Let's introduce the 100′ trailer! They could 'hinge' in the middle like transit buses! Wait until these things try to make a corner like the corner of Yonge and Bloor Streets in Downtown Toronto!
Clearly, the shippers and the politicians may as well legalize marijuana in Canada, cause obviously, they are already smoking it.
When will the 'grow the trailers stupidity' end?