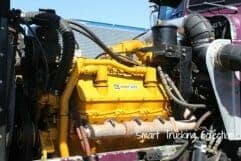 Manufacturers of diesel motors today are constantly struggling to maintain the stringent emission standards imposed by government regulations and at the same time, produce a reliable product.
Recent changes within the industry have triggered the purchase of diesel motor manufacturers, by big rig manufacturers.
With the exception of Cummins, all other engine makers are owned or partly-owned by truck manufacturers.
To keep their costs sharpened, the truck manufacturers limit the choice of motors available in their products, so the motors available in big trucks is much more limited than in past years. Definitely not a good thing for the buyer.
It's been a positive move for the manufacturers, as they are now not dependent on outside sources for their production.
For example, if you were to order a Peterbilt with a Detroit engine, the build time would often be delayed, due to the wait time for the production and delivery of the engine. Not so now.
Diesel Motors – Who's Who

Detroit — Detroit Diesel is partnered with Freightliner/Western Star.
Volvo Diesel — Volvo makes their own engines.
International Diesel — The only diesel company not using DEF technology. International makes their own motors for their own trucks.
Paccar Engines — Paccar now manufacturers motors for their own trucks (Peterbilt and Kenworth). Petes and Kenworth trucks can also be ordered with a Cummins engine.  Paccar trucks are the only big trucks with a choice of engine.
Caterpillar Engines — Caterpillar no longer manufacturers a heavy truck engine, although Cat parts are still available.  They chose to bow out of the market after struglling to produce a reliable motor that met the tough emission standards and regulations.  What a shame that it's no longer an option to order a truck with a Caterpillar motor.
Cummins Engine — Cummins is an independent engine manufacturer.  These motors are only available n Paccar products:  Kenworth and Peterbilt trucks.
Diesel Oil —  In keeping with the changes in today's engines, diesel motor oil makers are offering synthetic engine oil as well as the traditional product.
Motor Problems — Diesel engine troubleshooting issues are best handled in a dealership's shop because today's new motors are completely computerized.  However, there are some things that the trucker can watch for or do to help prevent unnecessary breakdowns and extra costs.
Picking the Best — Choosing the best engine for the specific work the vehicle will be doing is one of the most important decisions you'll be faced with when spec'ing your truck.
Do your homework and choose a motor that will not only give you decent fuel economy, but will stand the test of time and most of all, keep you out of the repair shop.
Biodiesel Fuel — With diesel fuel prices being the biggest expense for trucker, the trucking industry struggles for alternatives to traditional diesel.  Although not a completely practical or safe alternative yet, biodiesel is an alternative that some folks are considering.
Other Articles You May Like:
Smart Trucking Home > Big Truck Guide