Driving the old big rigs was a real thrill, when I started my trucking career in the '70's.
I worked for a trucking company hauling gasoline, out of Calgary, AB, into bulk stations in the Rocky Mountains.
Here's a few of the models of the old big rigs I drove starting out my truck driving career.
Transtar Cabover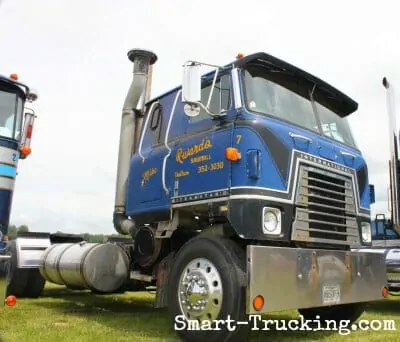 The first rig I drove was a pretty good truck for a brand new rookie driver to be assigned to at the time.
One of the very first trucks I drove, was one of the early Transtars, an International cabover.
The Transtar had a 318 Detroit engine with a 13 speed. It had an air ride seat but not power steering. It had a decent ride.
It was rubber block suspension as they all were back then.
It turned pretty well and was a reasonably comfortable truck.
It was fairly stylish for it's day.
As with all cabovers, it was a tad chilly in the winter.
But over all, a decent truck. With that 318 Detroit, boy when i got her up around 1900 RPM, I'd just about go deaf in the cab of that thing!
There was no insulation in the dog house, which was of course right beside me in the cab. It was pretty damned loud.
R Model Mack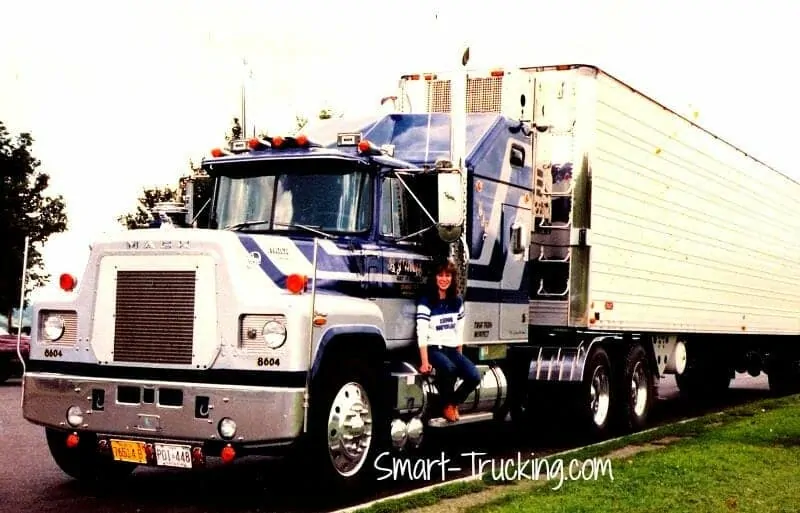 Within a few months or so, I then graduated to a R Model Mack.
It was the first conventional style of truck I had ever driven.
It had a 300 Mack engine with a maxi-dyne style jake brake, with a five speed transmission and a 3 speed auxiliary.
This truck had rubber-block suspension and power steering this time. At the time, I thought I had really stepped up in the ranks, driving this truck.
It was actually pretty nice inside. It had a foot vent down by the driver's left foot.
There was no air conditioning back then of course, so it was nice to have those air vents down by my feet in the summer to cool off my feet, as I was right next to the engine.
It was pretty nasty if I missed a shift, with that 5 and a 3…. it would just about snap my wrist if I missed the shift!
It didn't like to turn on icy roads either, with those "biased-ply" tires back then.
I really don't think any of them were particularly good on ice. It was very skitterish on an icy road.
One of the best things about that R Model Mack, was no matter how cold the weather was, it could sit it for a weekend in a snowbank and that thing would crank over and start in the worst weather.
It was a very reliable truck.
Kenworth 900A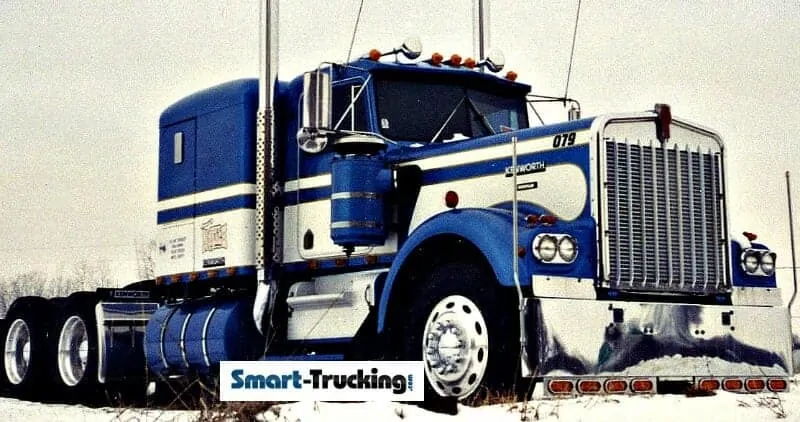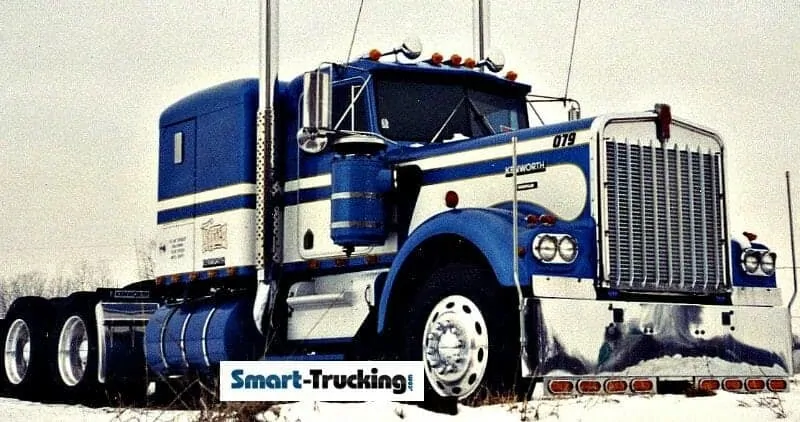 After the R Model Mack, I gained a little bit of seniority at the trucking company I was working, and they put me into a Kenworth 900A.
It was an 18 speed and quite a beautiful truck. It rode well and looked great with that big long hood!
The interior was plush and there was heavy insulation inside. However, it did not turn very well. It needed a football field to turn around. I didn't like that about it. It didn't maneuver very well in a tight spot, but other than that a very nice truck.
The engine pulled like Jack the Bear…. a good working truck. I never really had any mechanical issues with it at all.
Related > How to Shift an 18 Speed Transmissions (All the Steps)
1980 Western Star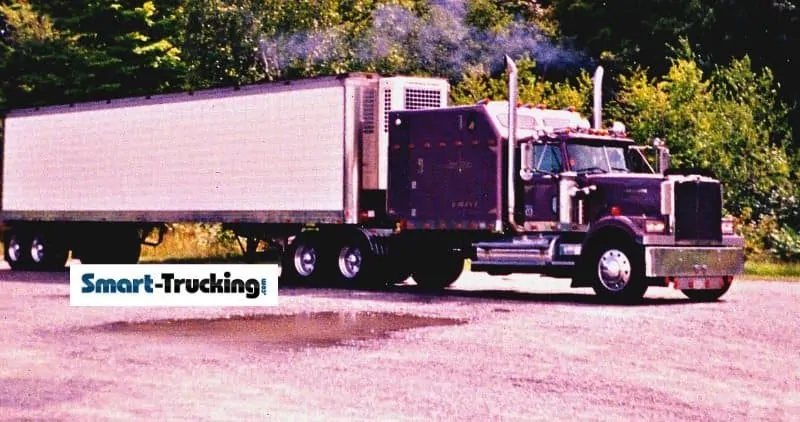 By early 1980, that same gasoline company, traded that long hood Kenworth and bought a brand new 1980 Western Star.
The Western Stars were built not far away from Calgary, in Kelowna, BC.
The interior was well laid out.
It was a beautiful truck inside, but very narrow.
That cab was so narrow, you could sit in the driver's seat and reach over and roll down the passenger's side window. It was that tight and narrow inside!
But because it was that small inside, it was very warm in the cab. It had heavy insulation.
It was powered by a 350 Cummins engine, with a 13 speed.
It was also a very heavy truck as are most Western Stars.
I recall having to be extra careful with that truck because of the gross weight of the vehicle. It was heavier than anything else I had previously driven. It was a double frame metal cab.
The company phased out that particular model of Star a few years later and went for more of a drop nose look.
Overall, I enjoyed driving it.
1983 Cabover Freightliner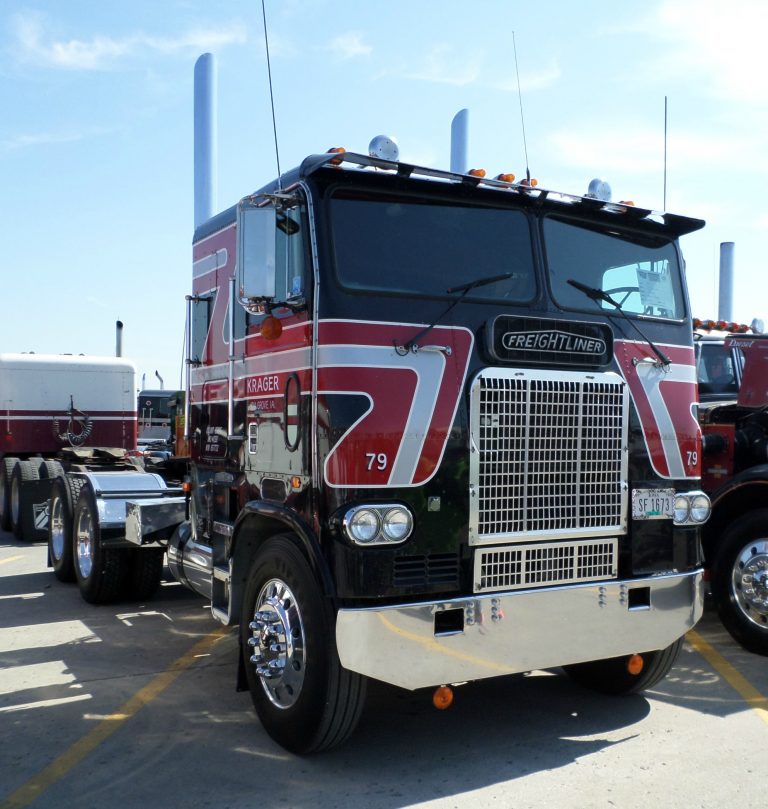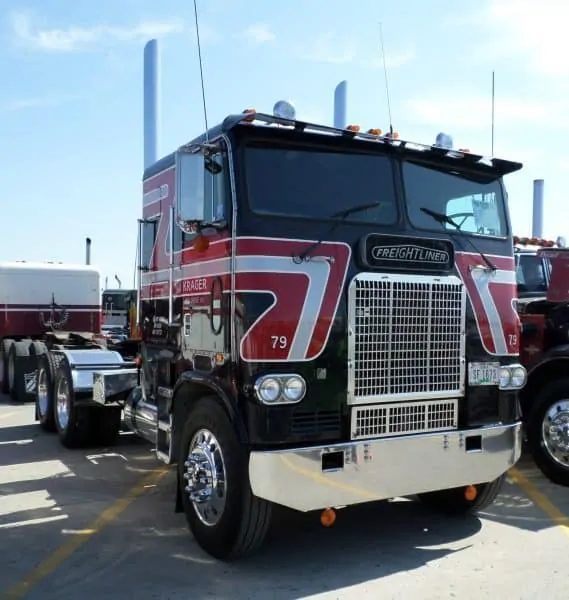 In 1983, I switched companies and went to work for another outfit that was running cabover Freightliners. They assigned me to a 1983 Freightliner cabover.
It had a 350 Cummins. I honestly didn't much care for that truck. I nearly froze in the winter months.
It had numerous electrical issues. I remember one occasion, driving on a winding road in the north, turned on the high beams, and it shut off all the electrics.
Needless to say, I couldn't see a thing. It was on a dark curvy road in the middle of the night with absolutely no lights.
It scared the heck out of me!
It was also a noisy thing. It rode very poorly.
I guess you could say there was absolutely nothing about it that I liked!
Because of the poor quality of their fleet trucks, I didn't stay with that outfit for very long.
It was a union job, but I couldn't tolerate being roadside, waiting for repair 50% of the time, at the bottom of the seniority list.
Most of their company equipment was pretty junky.
Driving The Old Big Rigs Was an Adventure!
Overall, the older trucks were a bit of an adventure to drive, particularly the cabovers. The conventionals were much nicer even back then than cabovers, in my opinion.
They were all good trucks. I just preferred the conventional trucks.
Comfort?
They weren't in the same category in drivability and ease of maneuverability, as the newer trucks are today.
They have come a long way in engineering the trucks in the last 40 years. I think the newer ones are far easier and nicer to drive.
Those 'old girls' are nostalgic looking trucks and they have that heavy equipment feel.
The newer model trucks are almost like a big luxury car by comparison.
But, one of the absolute best things about those old model rigs, was they were fairly simple mechanically.
That meant they could be fixed on the side of the road. I really liked that.
The downside to the newer trucks is, they are not reliable with the emission friendly equipment issues they are having.
Pretty tough to make money with a truck that is road-side, especially when brand new, with big payments!
When I see some of the older model rigs at truck shows or sometimes even driving down the highway, it brings a smile to my face when I think of my early trucking days, when a truck driving career was a noble career, and truckers were respected.
More Articles You May Like