This post may contain affiliate links. You can read the full disclosure policy, which is pretty dull, but
here it is.
Truck driving school cost is a big consideration when deciding on a truck driver training program or CDL training schools.
However, the cost of the program, should NOT be the #1 factor when deciding on which school to attend.
There are many programs and schools for truckers to choose from. Truck driving schools vary a great deal in what they offer and what a graduate of the program will be able to do as a trucker.
Driver Training Costs: Free?
This type of CDL training is commonly misunderstood. There are no programs for a commercial drivers license that are truly free.
There may be few or no 'front end' or 'start up' fees, but there are costs built in somewhere down the line.
Trucking companies or carriers that offer company sponsored CDL training, aren't giving anything away for 'free'. They are investing money to train a trucker to work for them, for a predetermined time period, and if the driver doesn't complete the work period required for whatever reason, they'll chase him for the monies owing on the program.
Here's an example of a contract phrase for a company-sponsored programs… 'There will be no cost for the training, if the applicant stays with the company for one year. The cost of the program will be $2000, if the applicant remains with the company for a period of 6 months. Or in the event the applicant leaves the company immediately after the instruction period, the fee owing will be $4000. The company will get their money sooner or later, but rest assured, they'll get it.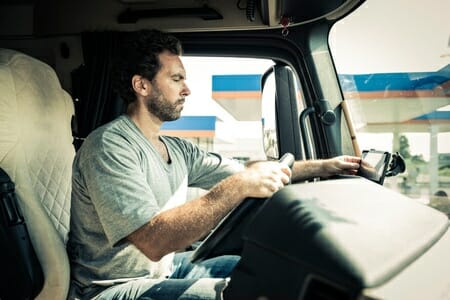 So unless you're willing to commit to their terms, truck driving school cost is NOT free.
There's another downside to free CDL or company sponsored CDL instruction.
When the driver leaves the company, he may need to 'redo' the instruction all over again, as his driving skills may not be good enough to satisfy another carrier, or the driver may not have been granted proper licensing by the carrier.
Some carriers push driver trainees through the instruction very quickly in order to get them on the road to generate income for the carrier, thus the quality of the program can be pretty poor and the driver won't have the skills necessary to pursue further employment with another more discriminating carrier.
There can be some benefit to these 'low cost' or 'free programs', and they do work for some people, but not for everyone. These programs are basically 'loan programs', with payments for the training deducted from the trucker's pay, or the company gets their value from the cheap labour for a driver who was quickly licensed. …certainly not a winning situation every time.
Use common sense when looking at truck driving school cost and fees, when considering the training options. You can be absolutely sure, they aren't giving you anything for free.
Related > Guide to Choosing the Best CDL Truck Driving Training Program
Truck Driving School Cost For Programs
The cost of programs varies immensely. The program can be 'no up front fees' or up to a few thousand dollars. Private schools tuition can range from about $3500 – $6000, approximately.
As a rule, I've noticed that truck driving school cost schedules seem to be a bit of a secret.
The price of many programs do not seem to be readily available. If it's is truly worthwhile, the school should be very upfront about the tuition and fees. If the product is as good as they say it is, there shouldn't be any problem in revealing the costs straightaway.
What Does the School Offer?
When applying to CDL training schools, there are many important factors to be concerned with as well as training costs.
Find out:
Type of equipment used for training: new and well maintained trucks, or old retired 'beaters'
Sufficient 1:1 instruction time, and not 5 drivers in a truck, with very little driving time granted.
Length of program: some are a few weeks long, some are a few months in length.
Location: the best choice of school would be one close to home, to cut down on out-of-pocket living expenses.
Tuition fees. Find out the exact total, including licensing, drug testing and other miscellaneous charges you may be responsible for. Ask if the program has a payment plan available, to help meet your budgeting needs. Be sure to get a clear final figure of the truck driving school cost, so there's no surprises.
Be sure to find get as much information as possible, so you can make the best choice for a truck driver training program, best suited for YOUR needs.
Get some referrals from the school and talk to some truckers who have graduated from their program. Ask lots of questions.
Free or no upfront fees to get your Class A/ CDL may be very appealing. It works for some but not for everyone. If this is the route you choose, be sure you're willing to uphold your end of the deal, as stipulated by the legal agreement, which you enter into with the carrier.
Where Would You Like to Go Next?