Truck driving schools in Texas are big business, and with good reason.
According to statistics:
Texas has more than 170,000 truck drivers – the most of any state
The Texas economy is the country's second largest behind California, contributing about 9% to US GDP
The average truck driver salary in Texas is about $53,000
In addition, nearly all of the country's big carriers have at least one terminal in Texas, and few states offer more diverse job opportunities.
CDL Training in Texas – Big Business
There are also more truck driving schools in Texas than just about anywhere else.
But before we jump in – A WARNING.
Except for community colleges and company sponsored (paid) CDL training schools, most truck driving schools are for-profit businesses.
And sadly, some are more worried about churning out new "drivers" and profitability than they are about providing adequate thorough training.
Some schools prey on those with little or no industry experience, and it's these people that usually have the worst experiences and end up paying way more than they should have.
Bar none, the best way to avoid becoming a victim is by learning as much about the industry as you can and researching prospective schools using –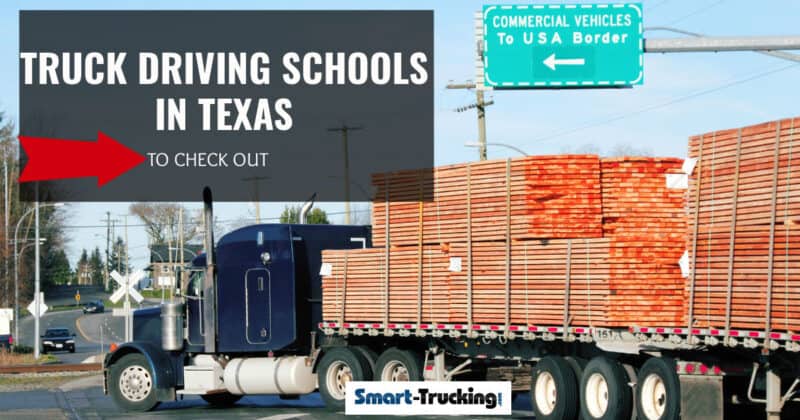 Need CDL Training in Texas? Do Your Homework!
To be clear, we're not recommending the truck driving schools on this list.
We haven't attended any of them
We're not affiliated with any of them
and we're definitely not getting kickbacks from any of them.
That said, we have found that they're among the largest and most well-known Texas CDL schools and worthy of a closer look.
Just remember to do your homework before committing and signing on the dotted line for ANY truck driver training school.
Texas Trucking Schools Worthy of Further Investigation
1. Roadmaster Driver's School
Featuring two locations in Dallas and San Antonio, Roadmaster Driving School has –
Been in business for nearly three decades
Helped more than 100,000 men and women become professional truck drivers
Roadmaster says that students can get their Class A CDL in as little as 3 or 4 weeks.
It's important to note however, that after graduation most students will need to spend 2 to 6 weeks with a driver trainer from the company they hire on with.
Roadmaster also offers
in-house financing
job placement assistance
help for veterans making the transition to civilian life,
and a tuition reimbursement program with the following big carriers who hire most of their graduates –
Werner
May Trucking
U.S. Express
Covenant Transport
Stevens Transport
In addition to their two Texas locations, Roadmaster also operates more than a dozen schools in cities like –
Phoenix, AZ
Jacksonville, FL
Kansas City, MO
Memphis, TN
Columbus, OH
Their online reviews on Yelp, Glassdoor and Indeed range between about 2.3 and 3.1 out of 5 stars, which is mediocre at best.
However, they are an established chain of CDL schools, with a job placement program and various forms of financial assistance.
2. CONTINENTAL TRUCK DRIVER TRAINING AND EDUCATION SCHOOL
Continental Truck Driver Training and Education School is a Class A CDL training school located in Dallas, TX.
This school has been in business since 2000 and has helped over 6,000 students get their Class A commercial drivers licenses.
During their 4-week course students learn with experienced trainers in the classroom, in the yard, and behind the wheel.
After graduation, Continental staff helps place students with the company that best suits their needs, and their partners include –
Maverick Transportation
Paschall Truck Lines
Werner Enterprises
Continental also supports both active military personnel and veterans and helps them navigate benefits programs like
the Post 9/11 GI Bill
Montgomery GI Bill
and the Survivors and Dependents Educational Assistance Program (DEA).
Other benefits of learning at Continental include –
Class A CDL refresher course
Discount for paying cash
Housing available for out of town students (at additional cost)
A number of financing options are available with multiple down payment options, one of which requires a credit check.
In addition, students who pay upfront or finance their training are eligible for tuition reimbursement provided by partner carriers.
Carriers generally pay $75 to $200 per month toward tuition reimbursement, but the terms vary from company to company.
Just remember, some Texas trucking schools provide minimal information on their websites, because they'd much rather applicants call so they can give them the hard sell.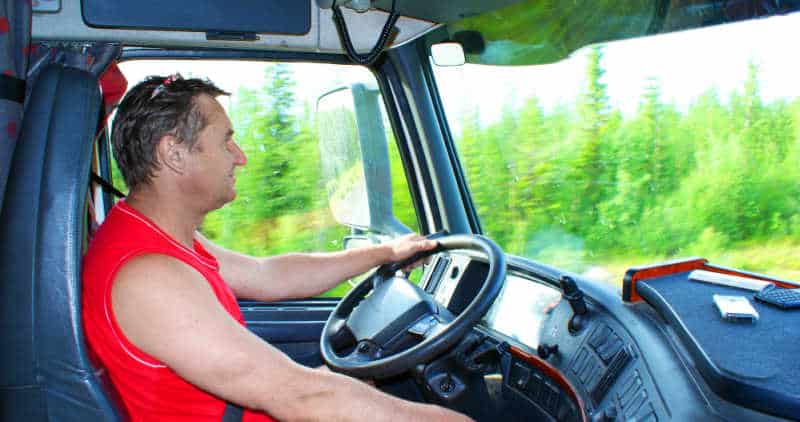 3. STEVENS TRANSPORT DRIVING SCHOOL
For those looking to make a career change, there's no better way to do it than by taking advantage of paid CDL training in Texas.
When it comes to getting a CDL, the best way to keep out-of-pocket expenses low and minimize debt is by attending paid CDL training.
In Dallas and Houston, Stevens Transport runs a few of the state's largest company sponsored truck driving schools.
Stevens' website says new drivers can earn $50,000 in their first year (take their claims with a grain of salt) and that students can get their CDL in just a few weeks.
Requirements for new Stevens Transport students include –
Must be at least 22 years old
Have a valid driver's license
Don't need any experience
Stevens also just announced an across the board 14% pay raise. (January 2021)
To get the ball rolling on your application, you'll need to answer 17 quick questions here, after which you'll be contacted by a recruiter.
Keep in mind that many large carriers operate paid CDL training schools because they have huge driver turnover (not driver shortage), which is generally caused by poor working conditions, insufficient home time and low pay.
4. ATDS TRUCK DRIVING SCHOOL
ATDS Truck Driving School has CDL training centers in Ardmore, Oklahoma and the following Texas locations – 
Killeen
Lubbock
College Station
Elm Mott
The tractor-trailer driver training program at ATDS focuses on:
safe driving skills
professionalism
classroom session training
yard time
and behind-the-wheel driving on public highways.
ATDS has been in business for more than two decades, and offers students the option of learning on trucks with either automatic or manual transmissions. ( A real perk!)
Their program is 4 weeks long, and new classes begin every Monday.
Hours during training are 7:00 AM to 6:00 PM, with multiple short breaks and an hour long lunch each day.
For those who'll be studying to get their CDL licenses while holding down another job, ATDS also offers an intense 9 week weekend course as well.
Upon completing ATDS' program, students will get –
Their Class A CDL license
A defensive driving certificate
A certificate from the community college they partner with
ATDS also advertises that they have a number of financing options available to help students pay for their training, but they stress that it's important to speak with an admissions representative before filling out an online application.
ATDS claims to have a 95% success rate in finding graduates' jobs, and positions include over-the-road, regional and local. 
Of more than 120 Google reviews, ATDS averages about 4.5 out of 5 stars. Pretty admirable, compared to other state schools.
Their phone number is (254) 829-1694
Christopher Bauer, Trucker, January 2021. I went to ATDS near Waco, Texas in Elm Mott. The instructors there were really great and especially know how to work with students that struggle with learning. I had an amazing experience there and would definitely recommend people to go there. I would just not recommend anyone that goes there to not go to the hotel they send students. Personally, I loved it and loved the time I spent there.
5. ACTION CAREER TRAINING
Like some of the other schools on this list, Action Career Training (ACT), is an accredited CDL training school with training facilities in a number of Texas locations, including – 
Abilene
Big Spring
Cisco
Ranger
Stephenville
Brownwood
Action Career Training has been in business since 1987.
Their training program lasts 4 weeks, during which time their primary goals are providing new drivers with the knowledge, skills and experience they'll need to make the most of their new careers.
For those who already have their Class A CDL licenses but haven't driven for a while, ACT offers a 40 hour refresher course at their Abilene location.
Refresher course requirements include –
Must already have a valid Class A CDL
Need to pass a DOT physical
And pass a road assessment test
ACT's website has a great FAQ section that's worth checking out before giving them a call at (325) 677-2444.
6. SAGE TRUCK DRIVING SCHOOLS
SAGE Truck Driving Schools operates more than 20 CDL training schools across the country, one of which is in San Antonio, Texas.
As one of the nation's largest trucking driving school operators, SAGE has graduated more than 40,000 students over the past three decades,
SAGE's programs:
last between 4 and 5 weeks
include 150 hours of instruction, of which nearly 45 are one-on-one driving time with a highly qualified instructor
they're the only national school to have a 1:1 student to trainer ratio.
Depending on school location and the student's background, SAGE offers training to those with no prior experience as well as drivers who've previously had a CDL but have been out of the industry temporarily.
SAGE's website is easy to use, and includes lots of helpful information on the following relevant topics –
On multiple online review sites, SAGE's rankings are between 4.2 and 4.5 out of 5 stars, so they seem like a solid option that you may wish to consider.
FREQUENTLY ASKED QUESTIONS
What are the top truck driving schools in Texas?
The top truck driving schools in Texas include Roadmaster Drivers School, Continental Truck Driver Training and Education School, Stevens Transport Driving School (company sponsored), and ATDS Truck Driving School.
Are there grants for truck driving school in Texas?
Yes, there are a number of grant programs available to those interested in attending a truck driving school in Texas. Recruiters and admission representatives are great resources to learn about which of the grants you may be eligible for.
Are there any accredited CDL schools in Texas?
Yes, there are a number of accredited CDL schools in Texas, most of which are affiliated with local community colleges.
How much is truck driving school in the state of Texas?
Truck driving school typically costs between $4,000 and $5,000, but in some cases can be much more expensive, especially if you aren't paying with cash or a credit card.
Are there truck driving schools in Texas for felons?
There's a lot of misinformation out there about felons getting CDL licenses. In many cases it's dependent on the type of felony committed and how old the conviction is. For those with a criminal past, it's always best to call schools directly and tell them the truth about your particular situation and get a straight answer, before investing your time.
What exactly is paid CDL training?
Paid CDL training is when a trucking company operates its own trucking school and pays students while they're training. But remember, paid CDL training (company sponsored CDL training) is only available to students who commit to working for the company for a certain period of time after graduating, and if they quit or get fired before their employment term is up, they'll be on the hook for the entire cost.
Is now a good time to get a Class A CDL?
The trucking industry has undergone numerous changes due to the recent pandemic, but good drivers (even new ones) are still in demand.
How much do truck drivers earn?
According to Indeed.com, the average truck driver salary in Texas is almost $53,000 per year. But keep in mind that it includes all driving jobs, and over-the-road jobs typically pay much less.
Is paid CDL training in Texas available?
Paid CDL training in Texas (free CDL training in Texas) is available for students who want to get their CDLs through a company sponsored training program. Tuition may be free if they work for the trucking company for a predetermined time after graduating.
Are there lots of truck driving schools in Dallas Texas?
Yes, there are a number of truck driving schools in Dallas, including some on this list like Roadmaster and Continental.
Which is the best Texas CDL school?
That's a matter of opinion. The truck driving schools on this list are among the largest and most well-known in the state of Texas.